With the whole world using digital media and tools for doing most of the stuff. The tech industry is under constant evolution. There is more software out there developed by different developers to provide the users with the best experience and utility. With more people choosing for work from home and distance studies digital video conferencing platforms are becoming famous and the business is booming. People are now purchasing Webcams and microphones to make the online conferencing experience better and achieve much more with improved gears and features. 
Webcams are one of the best inventions and are very much used by many computer users on the planet. Webcams are used to perform video conferencing over the internet. It is a very useful feature and used by people for professional and personal uses. All modern-day laptops come with a built-in Webcam. You can use that to record videos, capture pictures, and perform video conferencing. These Webcams are not much powerful and have basic capturing quality as they are built for video conferencing and not for professional videotaping or photography. You can also purchase Webcams separately as an accessory to your PC when your PC dosent come with a built-in one. There are many varieties of Webcams with different uses and capabilities.
All said these webcams need software to run them. The ones you purchase will come with firmware, after installing the firmware, you need software to use the Webcam. You will need to find the best software to make the Webcam function better. There are thousands of Webcam software available in the market. You can download the software from the internet as there are many choices, you can buy the paid ones if you want high standard features for Webcam functioning or you can always download the free ones without having to pay for it but their performance and quality would be comparatively poor. Mobile phones have a pretty good camera that can be used for conferencing, but why use an actual Webcam for your computer 
The windows 10 OS comes with a pretty neat camera software to control the Webcam, you can use this software if you don't want to download third-party software. The software provides you pretty basic features and is very efficient fot home users. 
Recommended Post:- Using BitLocker Drive Encryption on Windows 10 – Step by Step Guide
We will be discussing some of the free and paid Webcam software, that is the best for Windows 10 in 2021
Finding a good Webcam software can be tricky, you just need to look out for the one that provides you with the exact same features you are looking for. There are thousands of software from which you can pick up the perfect one. Here you will find some of the best Webcam software, both paid and free versions. You can try them out to learn more about them because you can only get an idea from whatever you read, you actually need to pick one software and experiment with it to know more.
Top Five Paid Webcam Software for Windows 10 in 2021
1. ManyCam
ManyCam is an all-rounder Webcam software, it comes with many presets and tools to edit your video. The software is easy to use and built efficiently. You can use the software to efficiently operate your Webcam. It supports a wide range of video recording formats. It supports full HD video recording.
You can get this software for $24.
2. Cyberlink YouCam 9
YouCam is a pretty decent Webcam software. It has lots of features that allows you to capture video in various formats and edit them to make them look better. Its a perfect software for streamers as it provides full streaming features.
You can get Cyberlink YouCam 9 for $ 34.99.
3. XSplit Recording Software
XSplit is a very versatile live streaming software, you get awesome features that you can use to stream like a pro. The software has pretty good background effects like blur tool and transparency tool to allow users to change the background.
You can get XSplit Recording Software for about $ 2.50 per month. It is subscription-based software.
4. Debut Video Capture Software
This is a very powerful Webcam software with features like screen recording and video recording features. It's non-commercial software but provides you with lots of preset features which you can use before recording the video.
You can get the software for $49.99.
5. WebcamMax
WebcamMax has very useful tools and resets that you can use while recording the video. The software is good for streaming and can handle live broadcasting pretty well.
You can get this software for around $ 19.99.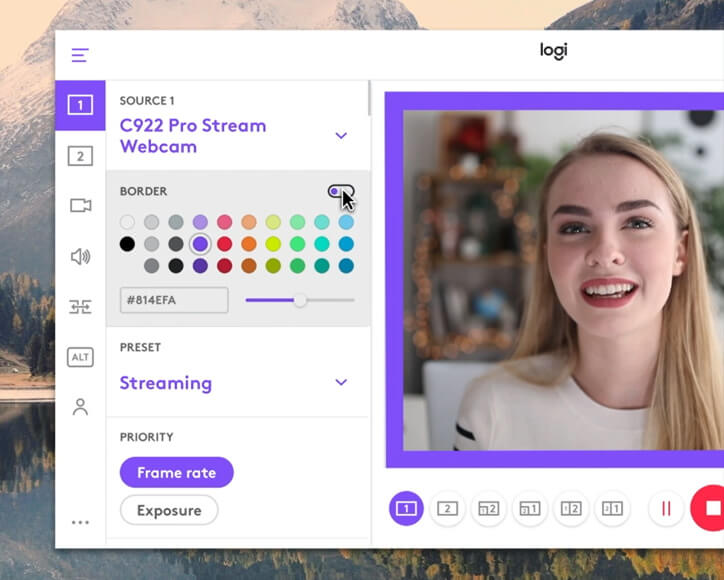 Top Five Free Webcam Software for Windows 10 in 2021
1. YawCam
It s a pretty powerful Webcam software, the user interface is simple and has many features to make it one of the best. You can do basic editing with the tools available in the software. You can capture images, record videos, and do much more.
2. Logitech Capture
Logitech Capture is a free yet powerful webcam software. It's developed by Logitech. Inc. you get lots of preset effects and tools which can come in pretty handy when you record videos using the webcam. You can record videos from two webcams simultaneously and control both of them with ease.
3. Open Broadcaster Software
OBS is one of the best free software for broadcasters and streamers, you can work easily with the software once you have understood the basics of its functioning. It's very easy to use and has plug-and-play features.
4. Windows Camera
Windows Camera is a built-in camera software that comes with the Windows 10 OS, you can use it to record videos and capture images. With this, you need not other software as it's a pretty neat and functioning software.
5. Bandicam
This is one of the best free Webcam software available on the internet. You can record your screen, record using the webcam, and even record using HDMI. it's very versatile and can be used very easily.
Hope the list of Webcam software mentioned above has gives you some insight. You can download them and use them to record, capture and do much more with the features in the software.