Most of the users often come up with an issue about Microsoft Compatibility Telemetry is using 50% of disk usage and it is slowing down the PC. The best thing to get rid of this issue is to disable Microsoft compatibility telemetry in Windows 10. Microsoft Telemetry is a service especially used in Windows 10. When Microsoft Telemetry is working in Windows 10, it notifies the operating system's hard disk and technical data of software to Microsoft. This leads Microsoft to fix existing errors and enhance user experience. Furthermore, Microsoft uses the allotted data to increase the user experience in Windows 10 computers.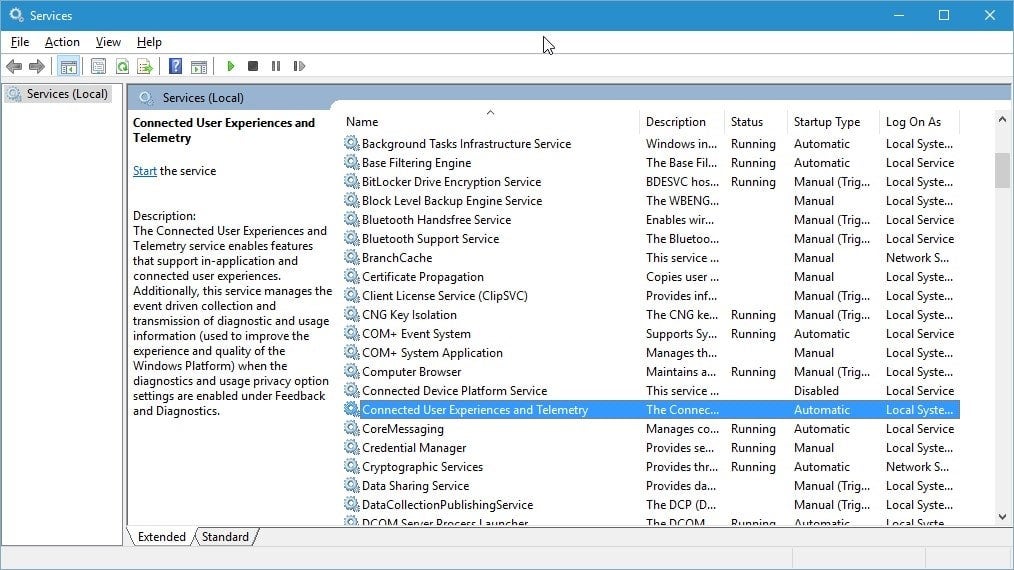 Understanding the concept in the core, the Windows development team collects the data from millions of users and notifies it with a new update. This tool transmits data until then all data is stored on your computer. And which is why most of the users file a complaint about the Microsoft compatibility telemetry high disk usage issue in Windows 10.
Also Read:- Fixed: Laptop plugged in not charging issue in windows 10
Steps to Disable Microsoft Compatibility Telemetry from Windows 10
The user would not have to make much effort in disabling Windows 10 telemetry. Here we explain the methods to disable Microsoft compatibility telemetry from Windows 10:
Disable Using Group Policy Editor
First of all start with running group policy editor which is the default in Windows 10 utility.
Press the Windows + R key to the open run dialog box and type gpedit.msc and continue.
The open group policy editor will appear on the screen
Start browsing through computer configuration
Click on Administrative Template, continue with Windows Components and enter Data Collection and Preview Builds.
Double click and allow telemetry and continue selecting disable.
You're done! If this step is not working in your operating system then proceed with the next solution.
Using Registry Editor
Press the Windows + R key to the open and run dialog box. Then type gpedit.msc and continue.
Accept the request from Windows User Account Control
Continue to the path HKEY_LOCAL_MACHINE> software> policies> Microsoft> Windows> DataCollection
When DataCollection appears on the screen, right-click on it and choose New > DWORD (32-bit) Value.
Then a new file will be created. Name the folder as ALLOW TELEMETRY and press enter.
Set Value Date to 0 and continue with OK.
When you set this value all you have to continue with pressing Control + Shift + Esc keys to get task manager on the screen. Now you can check if Microsoft compatibility telemetry disk usage is disabled or not.
Using CMD
Press Windows key and type command prompt. Then right-click on it to run as admin
Once the Windows appear type press enter to the commands to step ahead
SC delete DiagTrack sc Delete dmwappushservice echo">
C:\\ProgramData\\Microsoft\\Diagnosis\\ETLLogs\\AutoLogger\\AutoLogger-Diagtrck-Listener.etl reg add.
"HKLM\\SOFTWARE\\Policies\\Microsoft\\Windows\\DataCollection"/vAllowTelemetry/t REG-DWORD /d0 /f
What Data Does Microsoft Compatibility Telemetry Collects
Microsoft Compatibility Telemetry gathers and sends the data to the Windows development team. But do you know what kind of data Microsoft compatibility telemetry collects? Microsoft Compatibility Telemetry gathers the data and sends it to the Development Team. But are you aware of what kind of data has been stored? Let's discuss: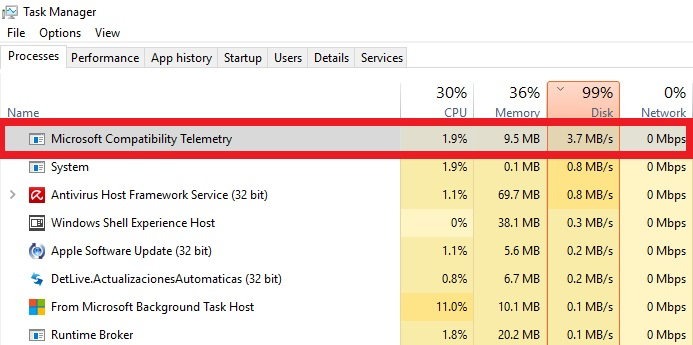 Every 30 minutes your operating system Windows 10 sends typed text from your keyboard
This tool usually transmits the things you say to Cortana. Moreover, it transmits a complete transcription of whatever you say to the Microsoft developer team.
MS script then transmits a complete list of multimedia files from your operating system to Microsoft.
The tool sends starting 35MB of data from your Webcam
It then collects what type of hardware you use
MS telemetry tool collects the device driver details.
Reasons why Windows 10 has Microsoft Compatibility Telemetry feature
If you are fed up of this and want to understand the reason behind why Windows 10 has Microsoft Compatibility Telemetry feature, please read the below information
The Microsoft Compatibility Telemetry collects the data and it is then used for improving the system security of your operating system.
It also refines system performance and makes it safer from virus attacks
It upgrades windows operating system according to the user requirements
Through this, we believe that you should not be fed up with Microsoft Compatibility Telemetry and support it to keep your operating system safe from the virus attacks and other negatives.
Fixed: Windows 10 Microsoft Compatibility Telemetry High Disk Usage
You can learn about how to fix Windows 10 Microsoft Compatibility Telemetry High Disk Usage by accessing the link below. Also, make sure that you have enough back up before you proceed with the same. There are a lot of duplicate ISO images on the market and it is best to download the same from a trusted source.