Windows 10 has become common in encountering various errors and issues regarding the update of the Windows features or apps in the store. There might be different reasons for the errors we experience during the system updates. It's quite irritating for a user to experience such kinds of disruptions while operating the system. One of the most popular errors that users nowadays are encountering is 0x8000ffff. This error occurs mainly when one tries to do a standard update or update some Windows features or apps in the store.
The day Windows 10 was introduced, updating of the system has become essentially regular. With new characteristics, Windows 10 has also brought a few issues. The error 0x8000ffff can arise mainly after the restoration of the system. This error might occur due to many reasons, such as the virus infection, faulty drivers, or by using a defective app or due to limited access or corrupted files. Learn more about WMI Provider Host High CPU Usage on Windows 10, drop down to ISO River page for the detailed insights.
Guidelines to get rid of 0x8000ffff error in Windows 10
While updating any Windows application, the process comes up with an error. Considering the safety of the users there are few solutions or methods through which the error 0x8000ffff can be fixed and which will greatly help the viewers to troubleshoot this notorious problem: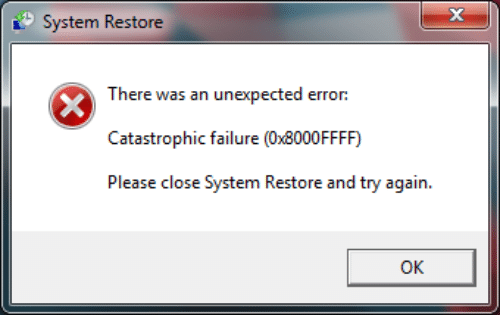 Examine your PC for viruses
The most basic start is to check for any malware infection or viruses on your computer. The only way to check this is to use a Windows defender tool that performs system scans at regular intervals. It will reboot your PC and does its best to keep one's windows 10 safe. If the user had already installed any virus detection app then with the help of that the user can detect all the malware issues in the operating system.
One can also use the 'Auslogics Anti-Malware' tool that can identify and remove the viruses and malware infections if any are left in your computer, and your virus detection app might be unable to recognize it. For any antivirus software, 'Bullguard' is the one most recommended nowadays.
Clear out all problematic applications
It happens many times that there might be some applications in the smartphone that are creating problems in updating the system or disrupting any other function that one might want to perform. But the unawareness of those applications makes users unable to understand the real problem in it. Among the various great uninstaller applications, 'Revo Uninstaller' is considered as the best one that one can try out.
Also, Uninstaller software applications can easily remove any program from your computer. It is suggested to use genuine applications that have good reviews, star rates, and testimonies so that no such kind of problem will be created in the future. Once the problematic application is uninstalled, one can check for the problem resolution.
Keep your Windows store cache clean
One of the reasons that the notorious error 0x8000ffff occurs is that there might be some corruption in the Windows Store cache. So to fix this error, try to clean out your windows store cache by :
Windows key + R
Type WSReset.exe – and press Enter
Or can use the alternative,
Windows key + S –
Type WS reset
Right-click 'wsreset'
select Run as Administrator
Click Yes
After following the above steps try again to open the Windows Store and install the apps you need. Now the person needs to perform just some more steps and then finally, can check whether the error 0x8000ffff has been removed or not and your updating process is going on successfully or not. If it is then it's good for you, but if the error is still present then the windows store cache will not be the reason behind the error.
Make changes in registry entries
This is one of the crucial tasks that is needed to perform to remove this error. Modification of registry entries is a quite riskier task, in the sense, if any irresponsible behavior would be there, then this can lead to a serious irreversible distortion to one's system. So to avoid any painful repercussions, it's strongly recommended to use official tools for this purpose, which are of zero cost and safe.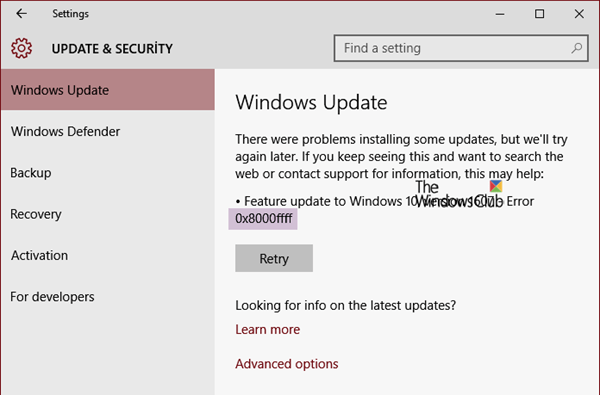 For example, Auslogics Registry cleaner. This professional tool will greatly help in editing registry entries and is much safer from the viewpoint of privacy. If anyone is still not satisfied and wants to edit their registry entries manually, then they can go for the manual instructions and the steps they need to follow. But one must be highly careful and take all the steps seriously. This is because even the tiniest mistake can permanently distort the overall system.
Put accurate date and time: Any inaccuracy regarding time and date can also result in 0x8000ffff error and will create problems in updating the system. This is a common mistake that people usually ignore without thinking about its consequences. This mistake creates issues, especially in the windows store and its apps. So one should ensure to keep up to date his or her system 's time and date by performing just a few easier steps:
Right-click the clock in the bottom right corner. Now choose 'adjust time/date from the menu.
Now locate the 'set time automatically' option and disable it. Wait for a few seconds and turn it back again, and eventually, your date and time get updated.
So now the user can finally check whether the error 0x8000ffff has been removed or not.
Carry out an in-place upgrade
Another choice to remove error 0x8000ffff is to perform an in-place grade thus forcing Windows 10 to upgrade to the latest version, while at the same time, keeping all your files and applications safe and secure. One needs to download and carry out a 'Media creation tool' from Microsoft 's website and just need to perform a few more steps and you will eventually get your latest version of windows installed along with all essential updates.
Fixed: Update error 0x8000ffff on Windows 10
The above mentioned all the methods are more than sufficient to fix this error 0x8000ffff and thus users will be free to update the windows. But still, if the error is not removed even after following the above methods, then we must suggest going for other methods to resolve this.