The Citrix Receiver is primarily used to connect users to XenDesktop and XenApp desktops and applications, but can also be used to deliver applications via Microsoft App-V, links to websites, and individual documents, among other things. By using Citrix StoreFront in conjunction with Receiver, organizations can provide users with self-service access to their applications and services. Citrix Receiver is a free download for Windows 11 devices.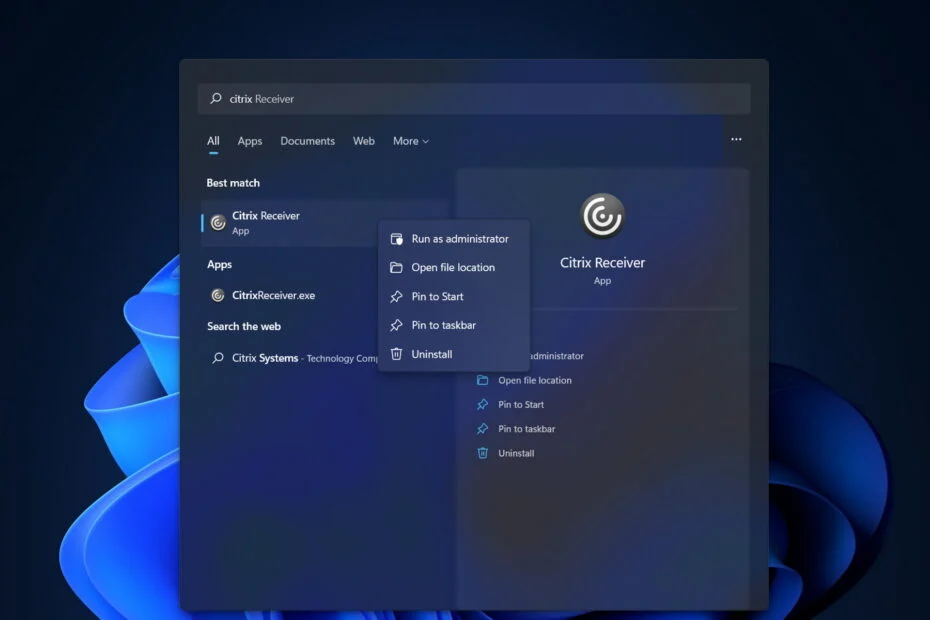 Citrix Receiver can connect client devices to XenApp and XenDesktop applications and desktops over the HDX protocol. The combination of plug-ins available for each version of Citrix Receiver depends on the customer's form factor and functionality.
Recommended Post:- Fixed: BAD POOL CALLER on Windows 10 & 11
So, if the Citrix receiver is not working or you are unable to launch the tool, you 
Why is Citrix Receiver not Working on your Computer
Citrix Desktop does not start:- The program you are using may be causing the issue preventing Citrix Receiver from starting.
Citrix Workspace does not start:- This issue can occur if you are using an older version of Citrix Workspace or Citrix Receiver. In this situation, the application cannot launch a desktop or apps.
Citrix Workspace does not open:- If you are using Citrix Workspace, the upgrade itself may not work.
Citrix Workspace won't open:- Your internet connection is probably the most common reason Citrix Workspace (formerly Citrix Receiver) isn't working properly.
Citrix Receiver app not starting on Windows 10:– If one or more Citrix Receiver apps cannot start on Windows 10, the first thing to do is an update.
Citrix Receiver Mac will not launch the app:- it may need to be uninstalled. And then it clears all its registry values ​​to solve the problem of not opening the program's desktop.
Citrix application disappears after startup:- the problem occurs when the default timeout of 1 minute is exceeded. At this point, the session is automatically logged out because the program takes a long time to start. 
Citrix application does not start errors:- The problem only occurs when the published application is used outside of a published session.
If the program could not start, please contact your system administrator:- Any customization, such as B. A script that applies changes to the TWI registry key may cause required data to be deleted from the TWI registry. which encounters an error when starting the program.
 The ICA file does not open in Citrix Workspace:- You can solve this problem by going to the directory where the ICA file was downloaded. When selecting a file, right-click and select Open With from the context menu. Then choose Citrix Connection Manager as the software.
Citrix Receiver not working in Chrome on Mac:- Activate the Receiver utility to clean corrupt or older Citrix Receiver installations.
Citrix Receiver does not run on Windows 10:- Update the application you are using to resolve this error.
Simple and Straightforward Methods to fix Unable to Launch Citrix Receiver on Windows 11
So, here are some simple methods to fix the unable to launch Citrix receiver on Windows 11. So, follow these simple methods to fix the issue with ease and connect to XenDesktop and XenApp.
Method 1: Refresh the Applications
Refreshing the applications is the first thing you need to do before diving into something complex as refreshing is the very easiest method, so to refresh the applications, click on the drop-down option from the right-corner menu and now select the refresh apps. Now, check whether the issue is resolved.
Method 2: Reset the Citrix Receiver
First, right-click the receiver icon in the system tray.
Then click on Advanced and select the Reset Receiver option. reset-receiver does not start the Citrix receiver application
A message will appear asking if you want to reset the handset to its default settings. Click Yes, and reset the recipient to confirm.
When Citrix Receiver prompts you to add your account again. Enter your domain username and password. You may be asked to sign in twice. This is also how to fix Citrix apps not running on Mac.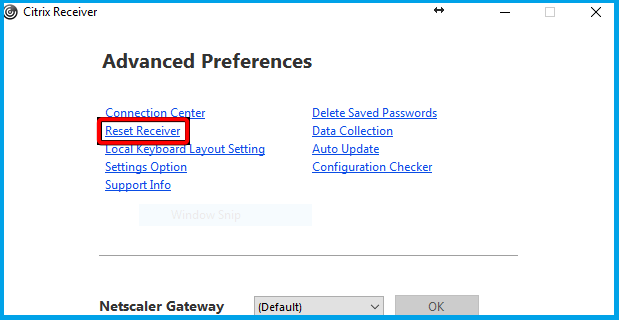 Method 3: Provide Full Permission for the User Account
Note that the user account must have full permission to set up Citrix Receiver on Windows 11 without any hassle. This is in his HKEY_USERSUSER_SIDSOFTWARECitrix on the client's computer. We recommend that you have full permission to the user account you use to log into the Citrix Receiver for the registry key.
If the domain user account does not have permission, delete the Citrix registry key after creating a backup. Then exit and restart Citrix Receiver.
Method 4: Use the Alternative Remote Working Option
There are several other free and paid remote working software available for use on various OS platforms that you can use to alternate Citrix receivers on your computer.
Well, the methods mentioned above are the simplest and doable methods to fix the unable to launch Citrix receiver on Windows 11. Well, if you are using Citrix for your business, you can always get in touch with your IT team and get things sought but if you have no other options, follow along the methods mentioned above and get things fixed.
Hope the information provided above was helpful and informative, with these simple methods you can easily fix the inability to launch Citrix receiver on Windows 11.