A touchpad or trackpad is a tactile sensor, a specialized surface that detects finger motion and position on your operating system and displays it on your screen. The Touchpad, on the other hand, functions similarly to a mouse and may be used to operate your screen. If you use a laptop, you may be aware of how inconvenient it is when the trackpad or touchpad movements are missing or stop working.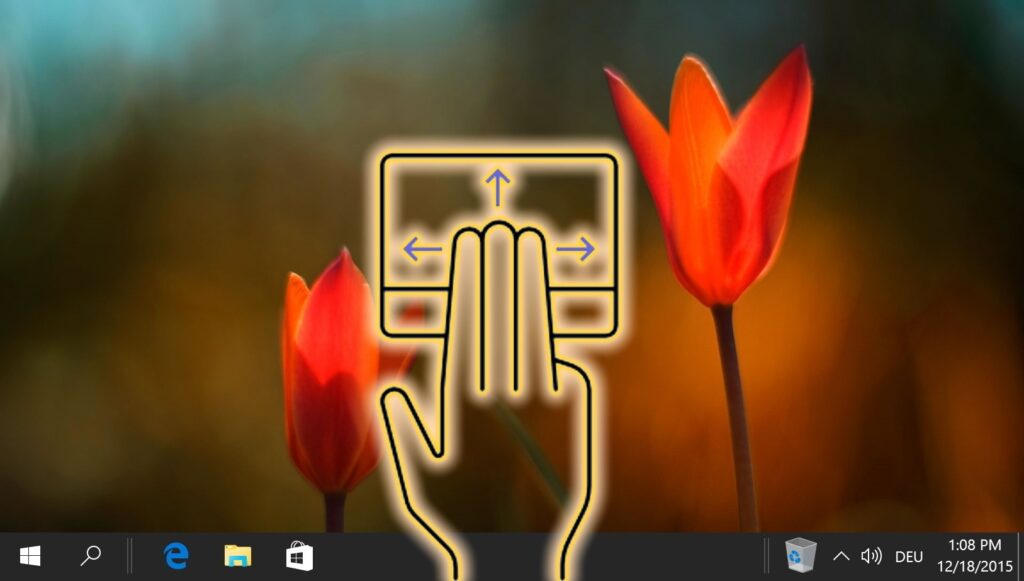 Unfortunately, consumers are experiencing this problem following the recent Windows 11 patch release. But, Microsoft has already indicated that they are aware of the missing touchpad motions mistake and that their staff has begun working on it.
This suggests that they will soon provide patches to cure this problem, but in the meantime, what options do you have? Don't worry, because this tutorial will teach you how to resolve this problem in a variety of ways. As a result, make sure to read all the way through.
Recommended Post:- How to Disable Network Adapter in Windows 11 – Quick Guide
Why don't the touchpad gestures work in Windows 11?
The majority of Windows 11 customers are experiencing touch gesture difficulties. The following are the most common causes of your touchpad not working.
The driver may be out of current: When drivers are not updated, touchpad motions begin to malfunction.
Two-Finger Scrolling is disabled: On some laptops, the two-finger scroll must be enabled in the settings.
Hardware problems: In some circumstances, the hardware itself may be destroyed.
Hence, to assist you in getting out of this position, we have collected a list of various solutions that you can try. Let's move on and get to work on the fixes.
What can You do if touchpad gestures aren't working on Windows 11?
Before we get to the full answers, here are some simple checks for Windows 11 gestures you can do:
Check that the cursor is not frozen. If so, restart your laptop or Computer.
Check for any hardware problems with the touchpad.
Check to make sure you haven't mistakenly disabled the touchpad via the shortcut keys.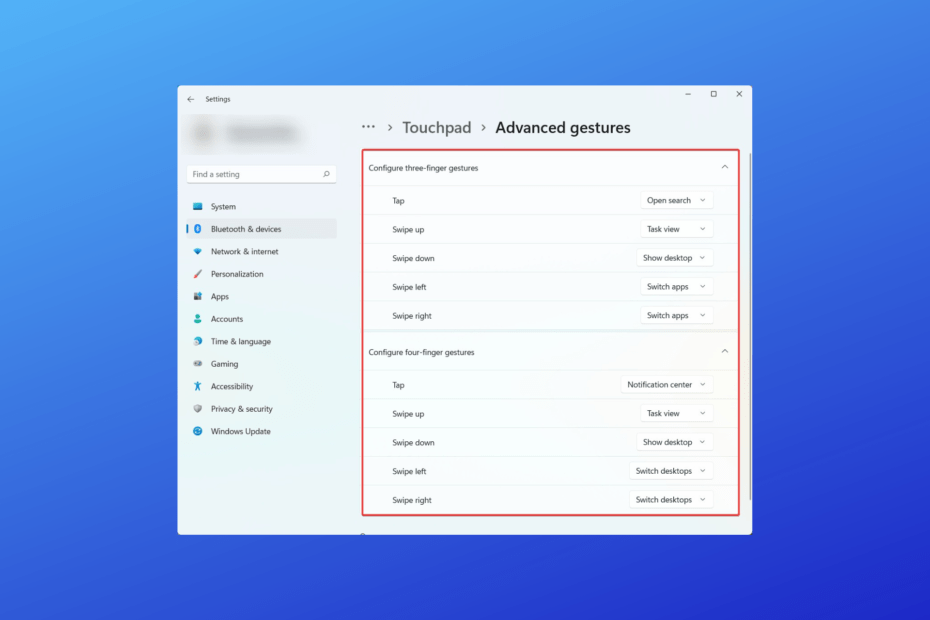 There are numerous workarounds available to help you address this issue. Nevertheless, we have only mentioned those that we have personally tried and effectively resolved the issue. Nonetheless, we are confident that these fixes will work for you. So, let us begin with these:
Solution 1: Restart Your Smartphone
It may sound strange, but rebooting your device will assist you in resolving various issues on your Laptop. In addition, we have received reports from individuals claiming that they were able to resolve the error just by restarting their computers. As a result, you should give it a shot as well. So how does rebooting assist us? So, let us investigate:
Step 1: Many system or software upgrades are not completed until the computer is rebooted.
Step 2: It will assist you in clearing the RAM on your computer.
Step 3: It will also assist you in closing programs that you may not need to run, freeing up your CPU and giving your system a fresh new start to perform effectively.
Solution 2: In the BIOS, enable Advance Touchpad
Your laptop's touchpad or trackpad is more than just a point-and-click gadget. Its capabilities have grown substantially in tandem with the advancement of Windows Computers. With the additional capabilities, you can now tailor the settings to your own needs based on the jobs you conduct.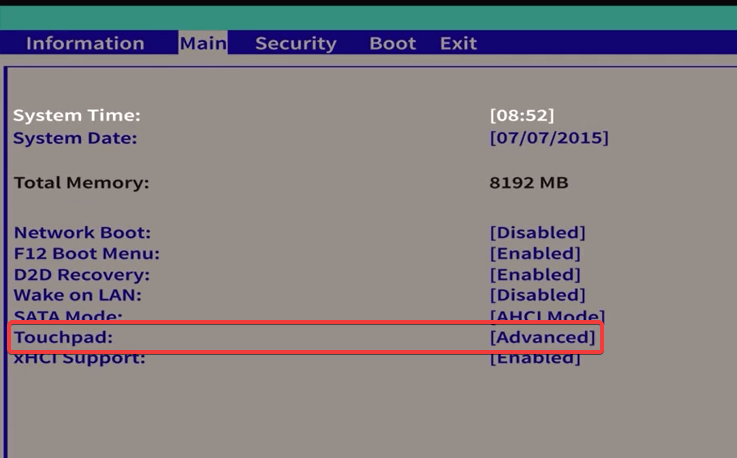 It is possible, however, that you did not enable the advanced Touchpad in the BIOS. Therefore, let's take a look at the steps you need to take to enable the advanced Touchpad via BIOS:
Step 1: First, turn off your device and then restart it. But, before opening the Windows logo window, depending on your device model, press the function key (F1-F12).
Step 2: Next, select the Primary option, followed by Touchpad.
Step 3: Now, select Advanced Mode and save the settings you've made. Then, restart your computer.
Solution 3: Re-install Touchpad Driver
If you're still experiencing the touchpad gestures missing error, parts of your touchpad driver files may be missing, causing this problem.
As a result, we recommend that you reinstall your touchpad driver on your Windows 11 PC since many customers have found that this fixes the error. Therefore, let's go over how to reinstall the touchpad driver:
Step 1: First, launch the Device Manager.
Step 2: Next, select Human Interface Devices or Mice and other pointing devices from the drop-down menu.
Step 3: Next, right-click on it. Next, select the Uninstall The Driver option.
Step 4: Finally, restart Windows 11 to reinstall the Human Interface Device driver.
Solution 4: In Settings, enable Gesture Support
You can also enable gestures from the Windows 11 settings menu if you are receiving the gestures missing error because the gesture is disabled in your Windows settings. So you'll have to enable it, but how? Let us investigate: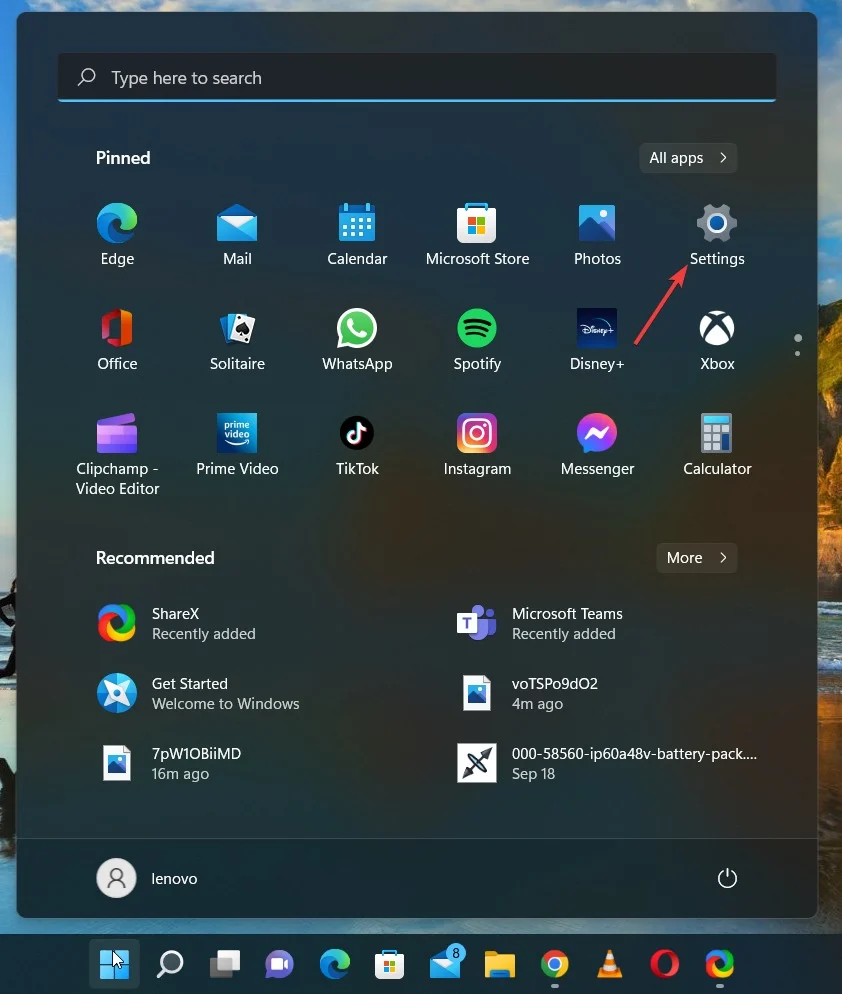 With the Mouse:
Step 1: From the Start menu, navigate to the Windows 11 settings.
Step 2: Using your external mouse, navigate to the Devices tab.
Step 3: Toggle the Touchpad button now. This will activate the gesture.
Without the Mouse:
Step 1: Use the Win+I key to access the Windows 11 settings.
Step 2: Next, using the tab, arrow, and Enter keys, navigate to the Devices tab.
Step 3: Using the same keys, select the Touchpad option.
Step 4: Now, using the tab key, toggle the Touchpad button to the On position.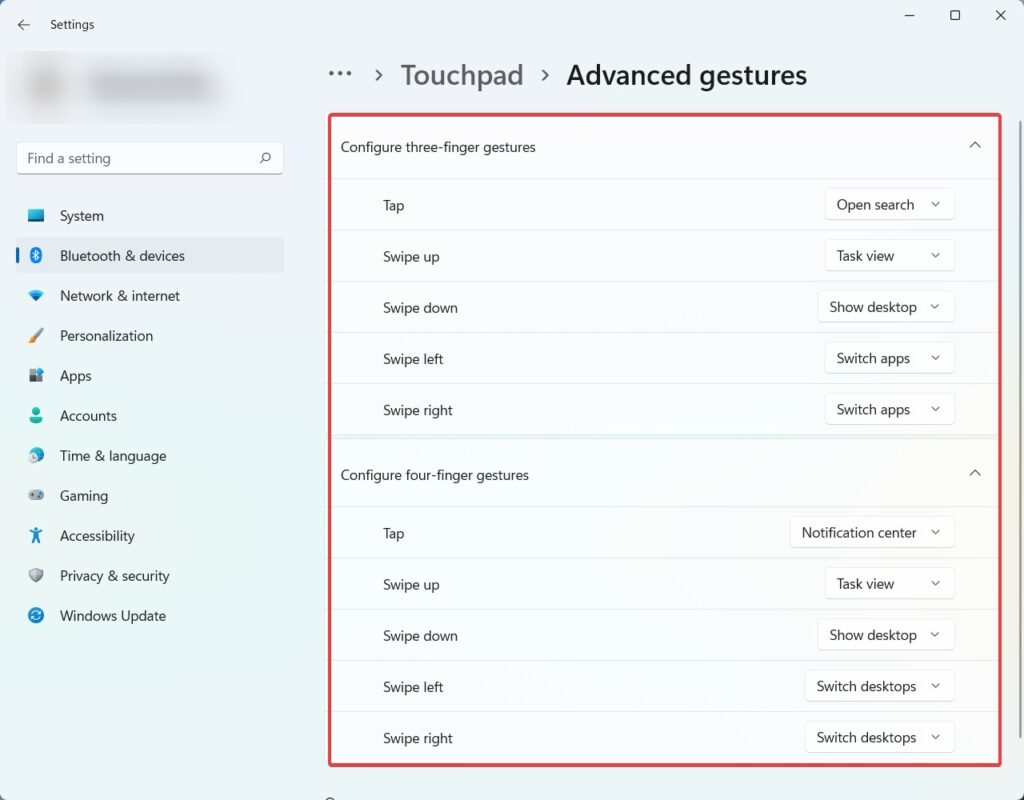 Solution 5: Make use of the Fn Key
If your touchpad or trackpad on your Windows 11 PC is still not working, use the Fn key. To enable it, hit the Fn key and a key between F1 and F12 at the same time. This will assist you in recovering touchpad gestures on your Windows 11 computer. So, give it a shot and let us know if the Fn key trick works for you.
Solution 6: Check Your Antivirus Software
Have you checked to see if your third-party antivirus is a factor in this error? There is a good chance that your antivirus is preventing your Touchpad from working properly. As a result, if you use a third-party antivirus, we recommend that you disable it.
Solution 7: Install the latest version of Windows 11
Upgrading Windows is another approach for resolving the gestures missing error on your Windows 11 PC. There is a chance that the most recent Windows patch update contains certain issues that cause this type of error.
As a result, as previously stated, Microsoft's developer team has begun working on this issue. As a result, the odds are they will release a fresh patch update to correct this. As a result, it is required to check for updates frequently following the techniques outlined below:
Step 1: Using the Windows search bar, look for and open the Windows Update.
Step 2: Next, choose and click on the Check For Updates option. Wait for it to look for and install the newest updates on your Windows 11 PC.
Solution 8: Make Contact With the Support Team
If you are still receiving the gestures missing error on your Windows 11 PC, likely, the problem is not on your end. In that scenario, contacting the support team is the best course of action.
Contact them and describe the problem; they will almost certainly supply you with some temporary remedies that will allow you to utilize the gestures on your Windows 11 Computer until Microsoft releases a new patch version.
Conclusion
When the three-finger swipe does not work in Windows, the issue is most likely with the settings. You may have also altered the gesture to execute another action, so double-check that. We hope that this post assisted you in addressing your gesture problem and finding a solution.