Rainbow Six Siege is an awesomely built online multiplayer first-person shooter game. The game-play is very awesome and involves stunning graphics and sound effects. The game was first released in 2015 by Ubisoft for Windows, PlayStation, and Xbox. It's a well-built game with great graphics and sound effects to give the players the best effects. There are different game modes that the players can choose from and play. 
You will be teaming with the real online player and will play against a real human, so the game will be pretty interesting compared to playing with bots. You can choose from a wide variety of skins that suits your preferences. The store has many cool items that might interest you and is easy to buy and use. You can do much more with the players and the game feels realistic as the graphics are tuned to provide the best sensation. The game file is pretty big and needs a good PC to run on. You will need a good internet connection to play well within the game. The game adopts different game modes, which you can choose from to play. With such powerful gameplay and graphics, you get a full package, on the whole, you can enjoy the game with your friends and play online for hours.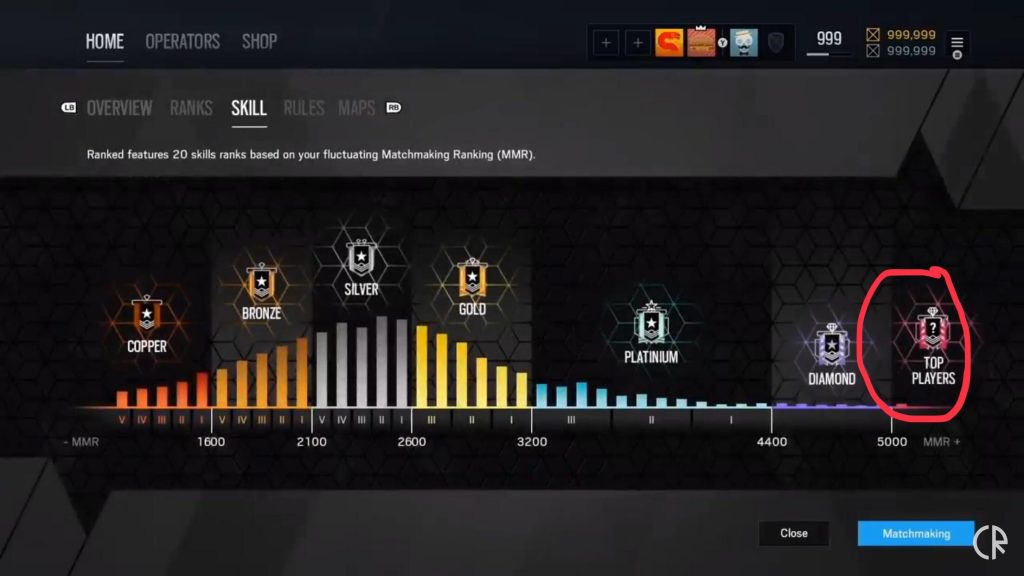 The game offers you with a variety of maps to pick from that look realistic and awesomely designed. The game is half a decade old but still holds good standards, there are millions of online players who still play this awesome game.
Going up the rank in an online game can be challenging, you need to know what the algorithm considered to upgrade your level and need to work on it to increase your rank. Rainbow Six Seige has a cool ranking system that works on the basis of your win-loss percentage. You will find out how the MMR system works and how to improve your rank in the game.
To get hold of the high rank in the game, you need to know about what ranking is and what the MMR system is, and how it functions. As previously mentioned you are ranked based on your Winning to losing ratio.
Rainbow Six Seige has 23 ranks based on the skills of the player spanning from copper to champion. You rank levels up when your skills improve and the ranks come down when your skills degrade. The algorithm is built to efficiently monitor your skills to rank you accordingly. The ranking is based on the ranking system developed by Microsoft for their X-Box. It is called true skills and is exclusively developed for rating players in multiplayer mode. There is more to the ranking in Rainbow Six Seige. It also considers the confidence of a player in combination with their skills to rank them. This is an effective method of ranking as confidence is a very important quality in multiplayer tactical games.
You would have got some idea of what ranking protocol Rainbow Six Seige uses to rank players, with this basic understanding you can build up your skills and confidence level. If you perform better the ranking algorithm will rank you accordingly. The more you play the higher your rank. The ranking system keeps a tab on your number of rounds played. With this ranking strategy, every player is equally assessed and ranked according to their performance.
Recommended Post:-  Tips and Tricks to Increase PC Performance on Windows 10
Here is the list of all the 23 Ranks that you will find on the ranking board of Rainbow Six Seige
The rank will be arranged in order, you can better understand your ranking after looking up the rank list:
Copper 5
Copper 4
Copper 3
Copper 2
Copper 1
Bronze 5
Bronze 4
Bronze 3
Bronze 2
Bronze 1
Silver 5
Silver 4
Silver 3
Silver 2
Silver 1
Gold 3
Gold 2
Gold 1
Platinum 3
Platinum 2
Platinum 1
Diamond 1
Champions
The list is very basic and can be easily understood, here comes the MMR ranking, this list of the ranks depends on the MMR system.
Match Making Rating (MMR) system is a pretty basic and easy-to-understand skill numbering system used by Ubisoft to rank your performance. Match Making Rating (MMR)
MMR rating rates your skill and gives a skill value, this directly influences your rank in Rainbow Six Seige. You can count on the MMR systems and view your ratings to prejudice your rank in the game. Each rank is associated with a Match Making Rating, by reaching certain points in MMR your rank will hike to the appropriate level.
The MMR system has a cool feature called the MMR lock, which prevents different players with huge rating differences to lay in the same game. This will certainly reduce the unfairness in the play and help players improve by competing with people of the same rating group.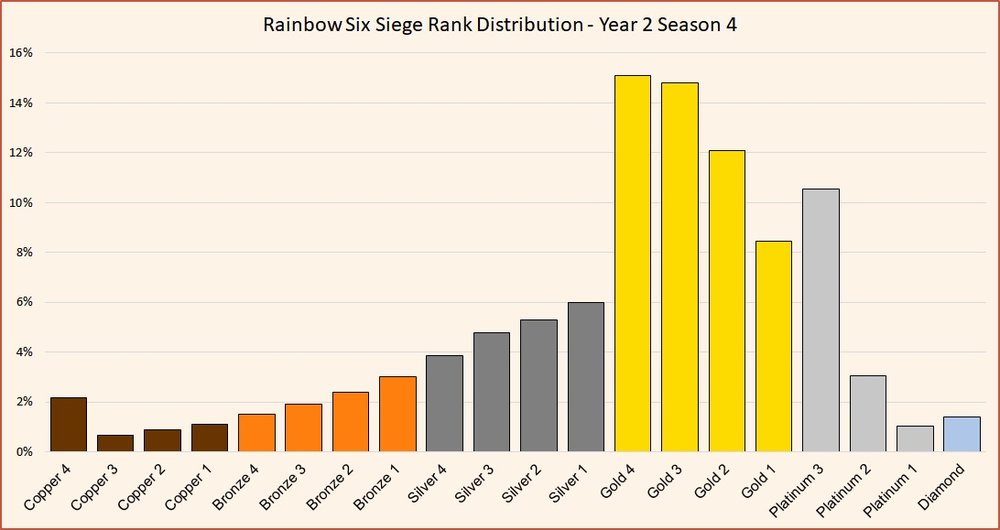 How to improve your Rank in Rainbow Six Seige
Work on your Skills
You can greatly increase your rank by improving your skills, your win and kill count must be higher than the loss and death count. You should play effectively and use the resources provided to enhance your combat skills.
Compete for More
The number of matches is directly proportional to your rank in Rainbow Six Seige, the more you play the higher your rank goes. When you play more you also can improve your tactical abilities and sharpen your senses, this will greatly improve your gameplay and in turn, increase your rank.
You can easily improve your rank in Rainbow Six Seige by improving your skills and increasing the number of rounds you play in the game. The MMR system takes care of the unfairness in the game and rationally allows you to improve. You can now comprehend the game and improve your gaming ability in Rainbow Six Seige as you know how the ranking system works and how to increase your rank in the game.