With google being the world's largest search engine and internet-based software tool provider they have various tools used by billions of people. Google runs servers that are much bigger than what one can comprehend. The tech company processes millions of TBs of data each day and the infrastructure they maintain to support all the data is fabulous. Well, one of the most popular and used tools of Google is Google earth, which is available for free as well as a premium for special purposes. So, here in this article, we will discuss exclusively some issues that users are facing with using Google earth on Windows 10 and 11.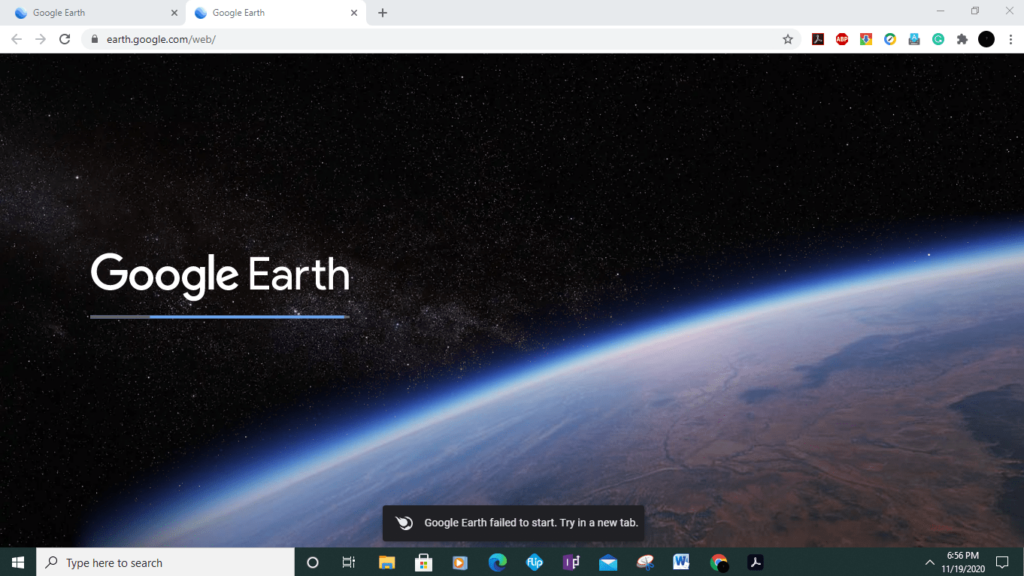 Google Earth is a free application that allows users to view satellite imagery at any time. You can zoom in on cities, countries, and even continents. Google Earth is an amazing program that uses satellite data to create topographical maps. These maps have incredible detail and allow users to zoom in and out, get satellite images, fly over land, etc. Using this tool, you can find out information about different places around the world. For example, you can use Google Earth to learn about the landmass in Canada, look at the population density in India, or search for volcanoes worldwide. Moreover, viewing the world in 3D on a smart device is a great thing as you can view or know things by sitting just in front of the computer.
Google Earth is a great tool for viewing satellite images of any region around the world, including our own country. However, some users have reported problems using Google Earth on their computer's operating system. If you're having trouble using Google Earth on your computer, here are some ways to fix the problem.
Recommended Post:- Fixed: Games for Windows Live Install failed/not Working
There are many reasons why Google Earth is not working, and there are some errors to consider as you can see below. Usually, when we're talking about the Google Earth desktop app, it has to do with file corruption or graphics card issues.
Google Earth not responding, running, updating, found, connected to the internet, shutting down – these are common errors, but you can fix most of them with our solutions.
Google Earth won't load, open, or install – Google Earth won't open and in some cases, users can't even install the app.
Google Earth Crashes during the startup: This is usually caused by a corrupt installation, but it's easily fixed.
Blurred Google Earth – To fix this, reinstall or update your graphics card drivers
Google Earth does not work in DirectX mode. This is easily fixed by simply changing the graphics card settings.
Google Earth plugin not working: To fix this, reinstall it and check if the problem is resolved.
Google Earth Search, and Street View not working – Some readers reported that the Search and Street View features were not working.
Google Earth has stopped working – this is most likely due to a corrupted installation.
Google Earth not working on black screen – Updating your graphics card driver will fix this problem soon.
Well, with the issues and the error's manifestation on the computer explored, we can dive into learning what the solutions are, so you can get into fixing the issue and start using google earth on computers effectively.
Simple Methods to Fix the Google Earth Not Working/ Loading on Windows 10 and 11
Hop on and follow along to learn some simple and straightforward methods to fix the google earth not working/ loading on your Windows 10 and 11 computers. 
Method 1: Use OpenGL
Well, OpenGL is supported by Google Earth compared to DirectX so, try to use OpenGL and see whether it fixes the issue for you.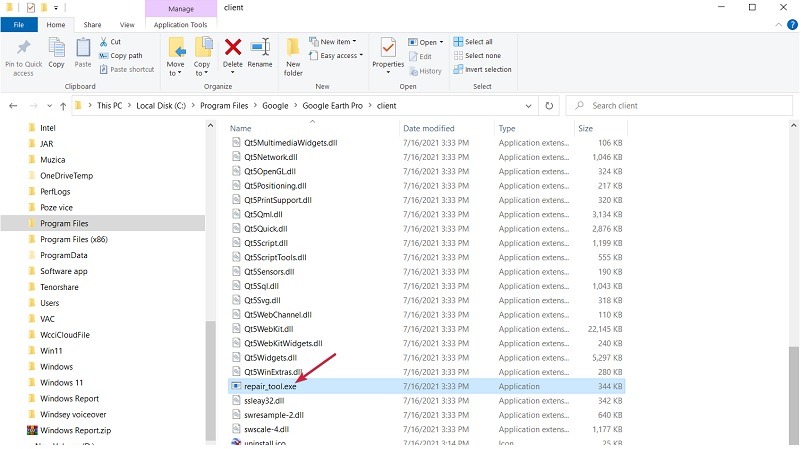 To use OpenGL instead of DirectX, If possible, open Google Earth, then go to Tools and select Options.
Click on 3D View and then choose the OpenGL option instead of DirectX. 
Click the Apply and OK buttons to confirm the changes.
Method 2: Use the Repair Tool Provided by Google
Google offers a tool that is found in the install folder of google earth, which can be used to fix the google earth not working on your computer.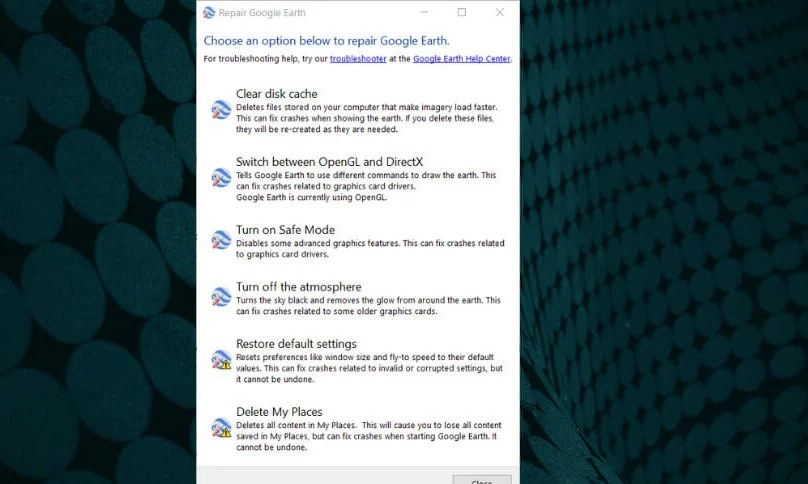 Press Windows Key + E to launch File Explorer on your PC.
Now go to: "C:\Program Files\Google\Google Earth Pro\client" here Browse the folder to find the repair_tool.exe file and double-click it to run the built-in troubleshooter.
This tool provides six options to fix the app and you have to try them all one by one to fix the problem. We have already covered some fixes in previous fixes, such as switching from DirectX to OpenGL.
Method 3: Update the Graphics Card Driver
Updating the graphic driver is an obvious fix for this issue and many issues related to the display will be related to faulty or old display drivers, so updating it is a potential fix.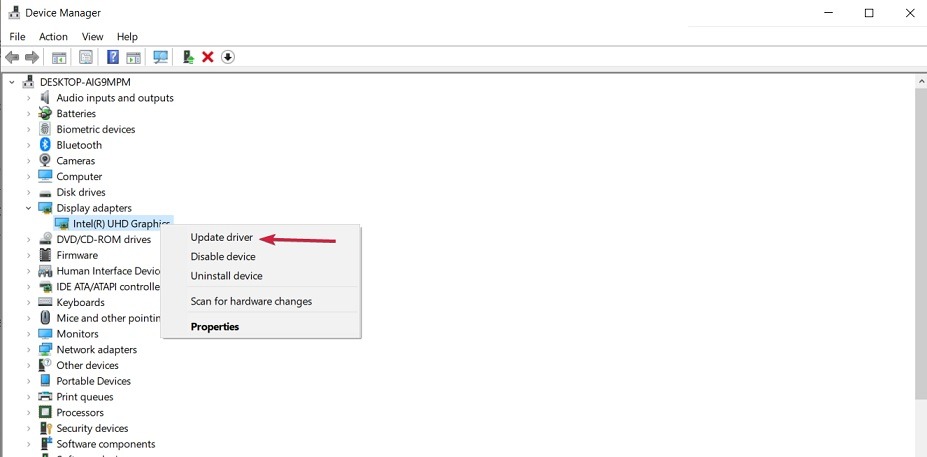 To update the graphics driver, right-click the Start button, type Device Manager, and select Apps from the list.
Click to expand the Display Adapters section, right-click the graphics card, and select Update Driver. Choose to automatically detect drivers.
If the wizard finds a new one, it will install it. Otherwise, you can click Check for updated drivers in Windows Update.
This will take you to the Windows Update tab. Click View optional updates. Select Update Driver Software to expand the section, check if you can find the graphics-related driver, check the box and click the Download and Install button to download it.
Hope the information provided above was helpful and informative, with these simple methods you can easily fix the Google Earth Not Working/ Loading on Windows 10 and 11.