Hello techies, in February 2022, Google introduced Chrome OS Flex to breathe fresh life into ageing Windows PCs and aged MacBooks. We've already written a complete guide on installing Chrome OS with Play Store compatibility on a PC, but it's built on Project Brunch, and the installation is a pain.
With Google now accepting third-party hardware, Chrome OS Flex stands out for its easy installation and extended support window.
We tested the Chrome OS beta release, and it worked flawlessly. Now that Chrome OS Flex has a stable build, things look much better. So, read on if you want to understand how to install Chrome OS Flex on your Windows laptops. Let us begin
Let's go a bit back and look at history. Google purchased Neverware, a New York-based firm developing CloudReady, two years ago. It allowed users to resurrect outdated PCs and run Chrome OS on them. CloudReady is based on the open-source Chromium operating system.
In February 2022, Google took up the project and released the first beta build of Chrome OS Flex (aka CloudReady 2.0), a desktop operating system based on Chrome OS, Google's official desktop OS with support for Google Assistant and other Google services.
It also included complete Linux support, although the Google Play Store was absent. After six months, Google has finally published the stable build of Chrome OS Flex, which now supports over 295 approved devices.
Google is providing Chrome OS Flex for free to Education and Enterprise users. On the other hand, regular users can install Chrome OS Flex on their older Windows PCs and MacBooks.
This article aims to use obsolete hardware to provide fast performance on par with modern computers. Because Google is now sustaining the project for hundreds of devices, we anticipate more participation from many manufacturers, including HP, Apple, and Asus.
Installation Requirements for Chrome OS Flex
Here are the essential requirements that must be fulfilled for installing Chrome OS Flex in your system. They are as follows:
A USB pen drive with at least 8GB of storage capacity.
A Windows PC with an x86-64-bit Intel or AMD processor. ARM processors are not yet supported.
At least 4GB of RAM.
Internal storage must be at least 16GB.
Check here to see if your computer is certified to run Chrome OS Flex. If your computer is on the list, you are ready to proceed. Refrain from being concerned if your model does not appear on the list. You can continue with the installation. Chrome OS Flex works on non-certified PCs, as demonstrated below; however, some functionalities may be reduced. Google will gradually add more systems to its verified list.
Steps to get Chrome OS Flex on a USB Drive
Step 1: First, you must install the Chromebook Recovery Utility Chrome extension by clicking here. It's an add-on that lets you flash the Chrome OS Flex build to your USB stick.

Step 2: Launch the Chromebook Recovery Utility and insert your USB disc. Then, press the "Get Started" button.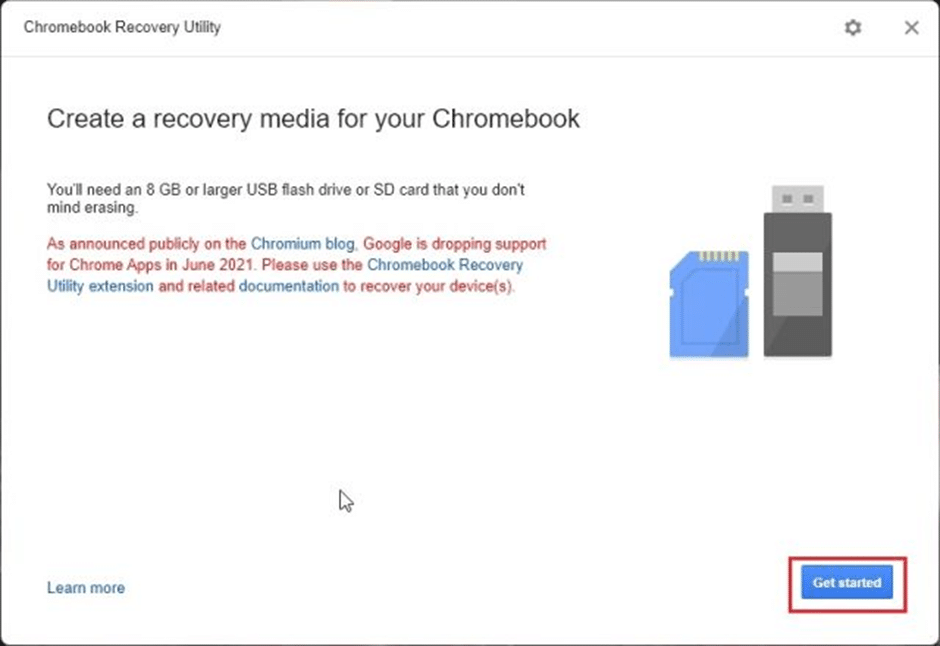 Step 3: Select the "Select a model from a list" option on the following page.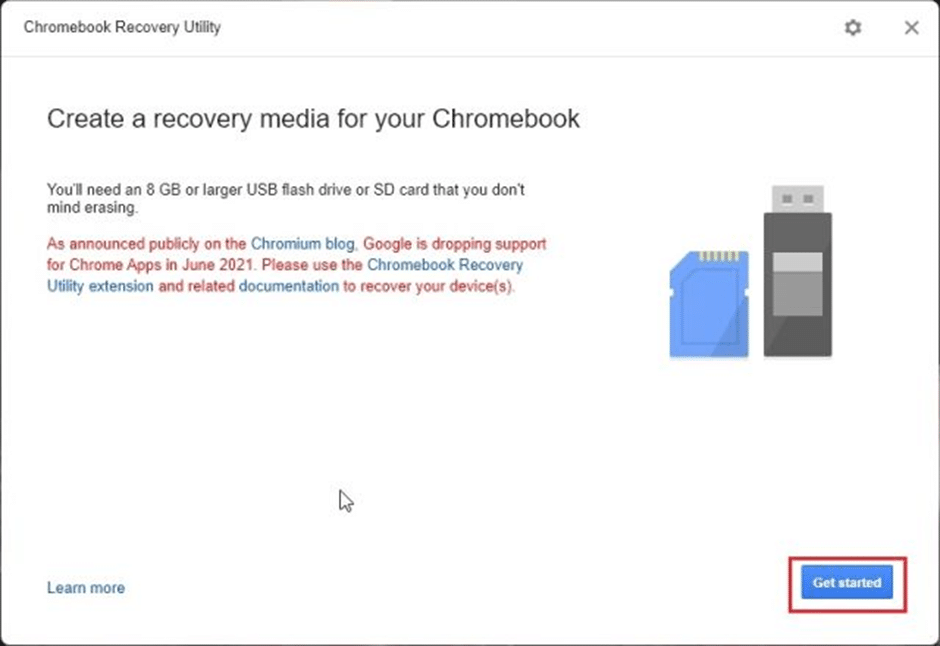 Step 4: Select "Google Chrome OS Flex" from the "Select a manufacturer" drop-down box. Choose "Chrome OS Flex" from the following drop-down menu. Now press the "Continue" button.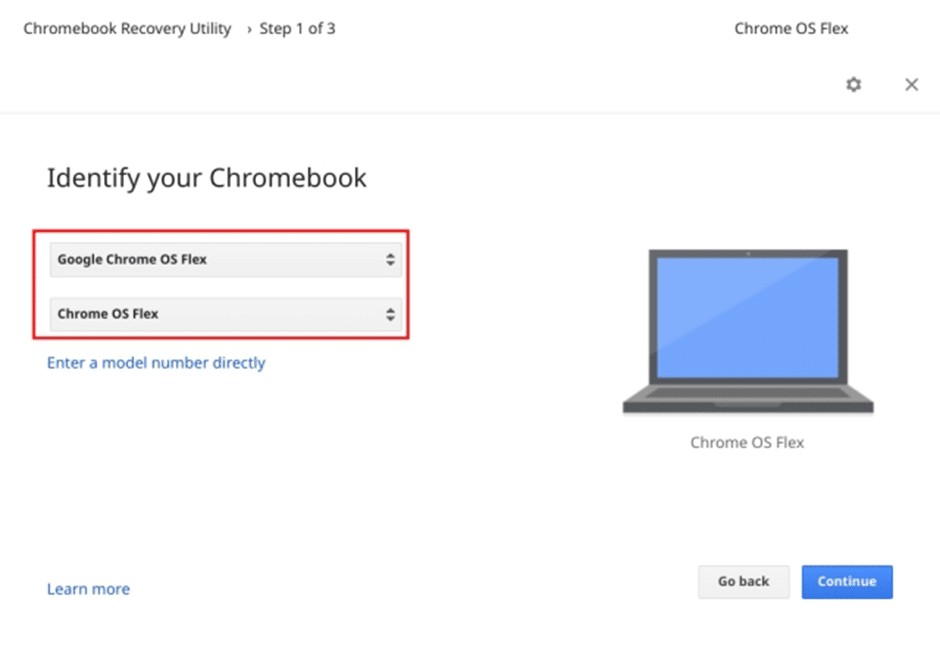 Step 5: Select your USB thumb drive and press the "Continue" button.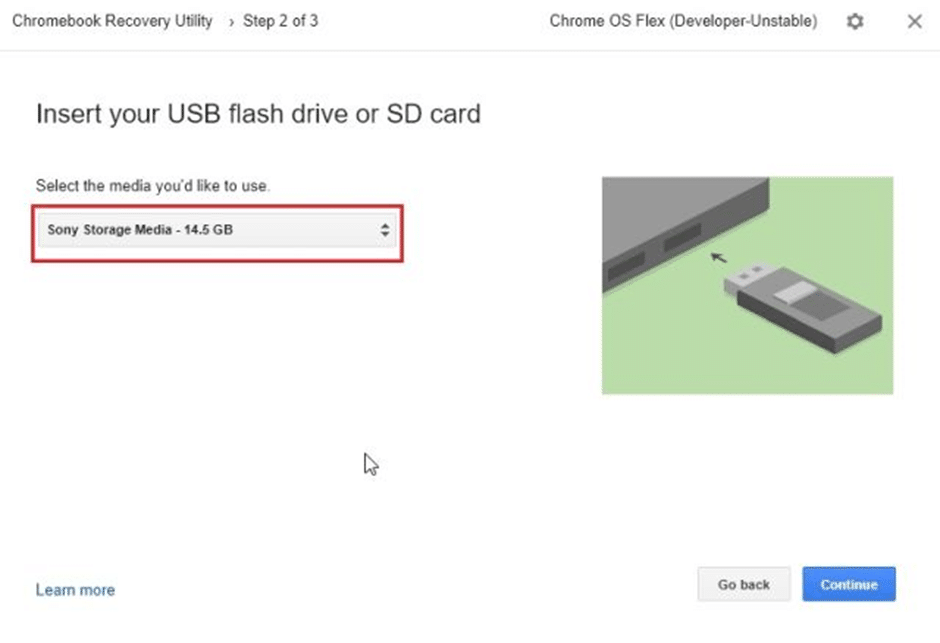 Step 6: Press the "Create now" button, and the Chromebook Recovery Utility will generate a bootable Chrome OS Flex drive. Depending on your internet speed, the entire process will take between 10 and 15 minutes.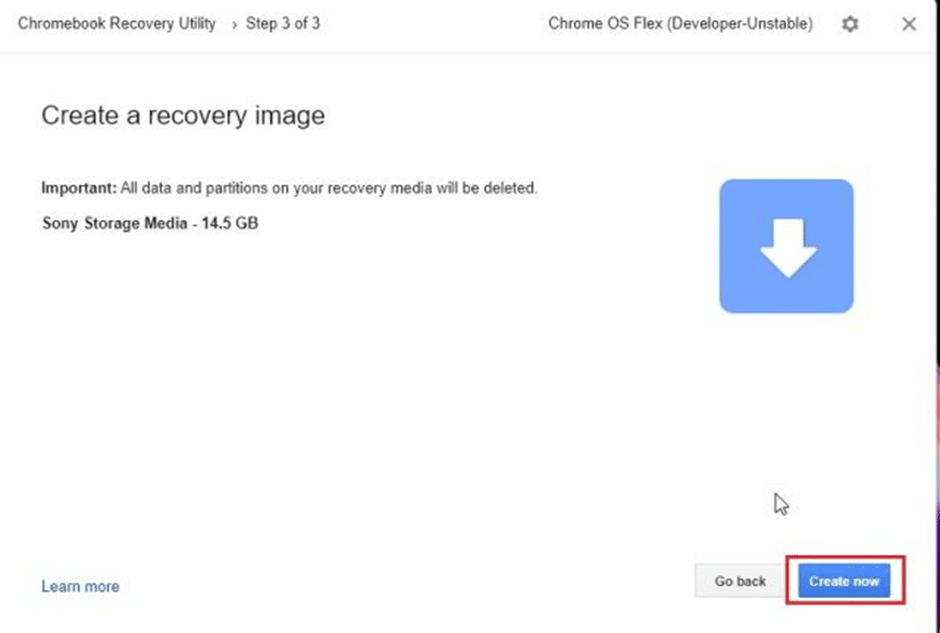 Install Chrome OS Flex on a Windows or Mac
Step 1: Restart your computer and press the boot key when the flashing procedure is finished.
Check the table below to know your computer's boot key. Continue to press the boot key until you reach the boot selection screen. If you're installing Chrome OS Flex on a custom-built PC, look up the boot key based on the motherboard manufacturer on the internet.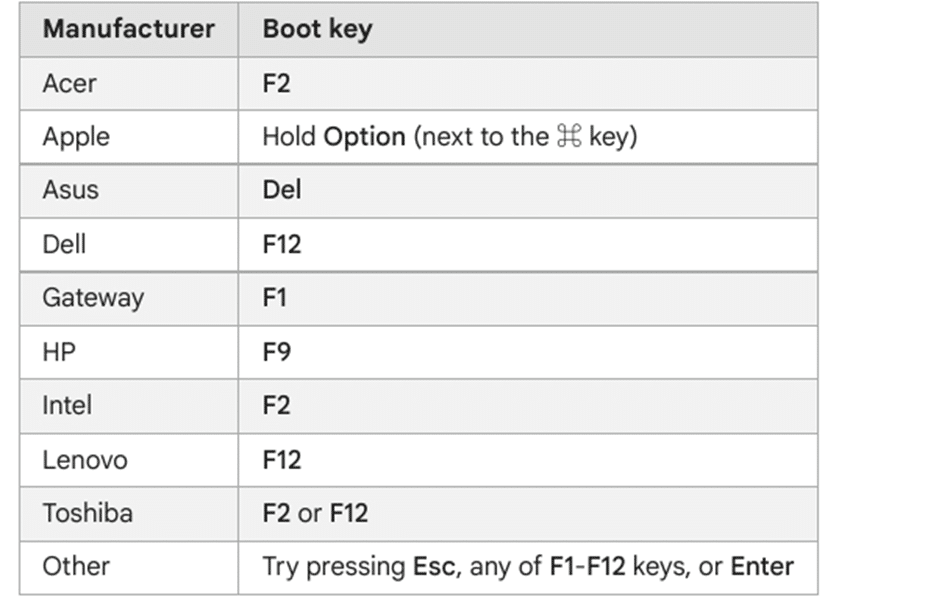 Step 2: Use the arrow keys to pick your USB drive and press Enter on the boot selection page.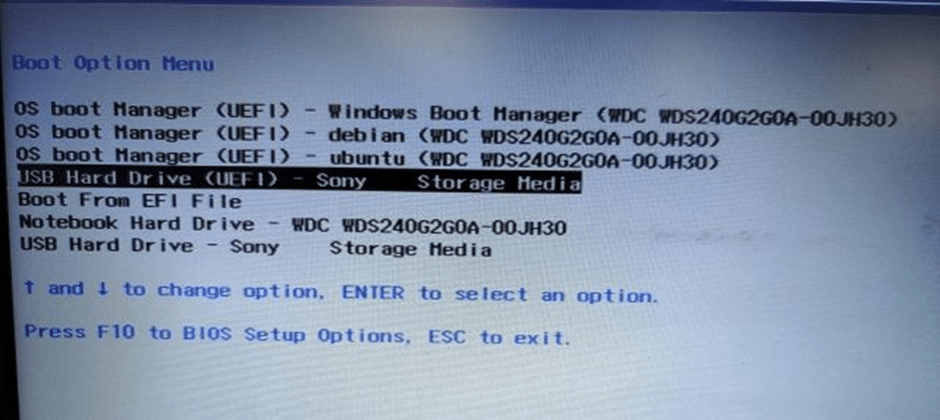 Step 3: The "Welcome to CloudReady 2.0" screen should now appear. Click "Get Started" here. Follow the on-screen prompts to sign in using your Google account.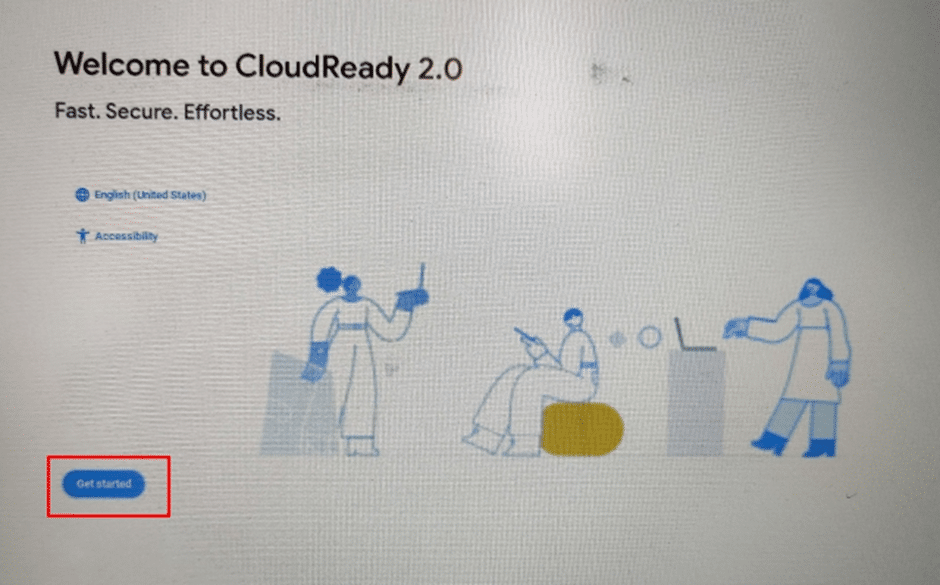 Step 4: We recommend you understand and experiment with Chrome OS Flex before putting it on your hard drive. You can test the compatibility of your Wi-Fi, keyboard, mouse, Bluetooth, touchpad, and other hardware devices in this manner.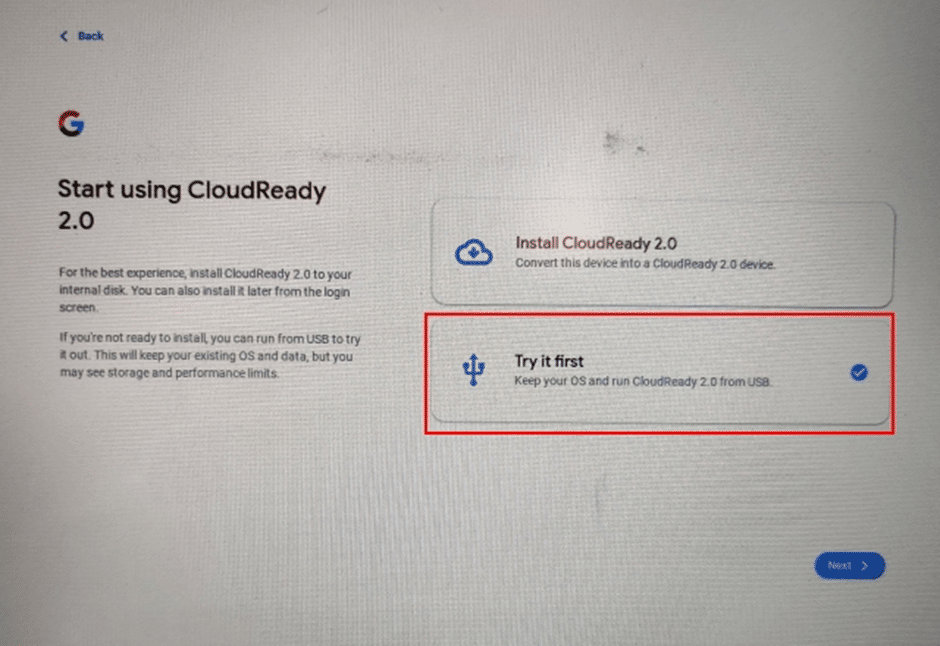 Step 5: Once you've decided to install Chrome OS Flex, enter the Quick Settings panel in the bottom-right corner and choose "Sign out."
Step 6: Click the "Install CloudReady" button in the bottom-left corner.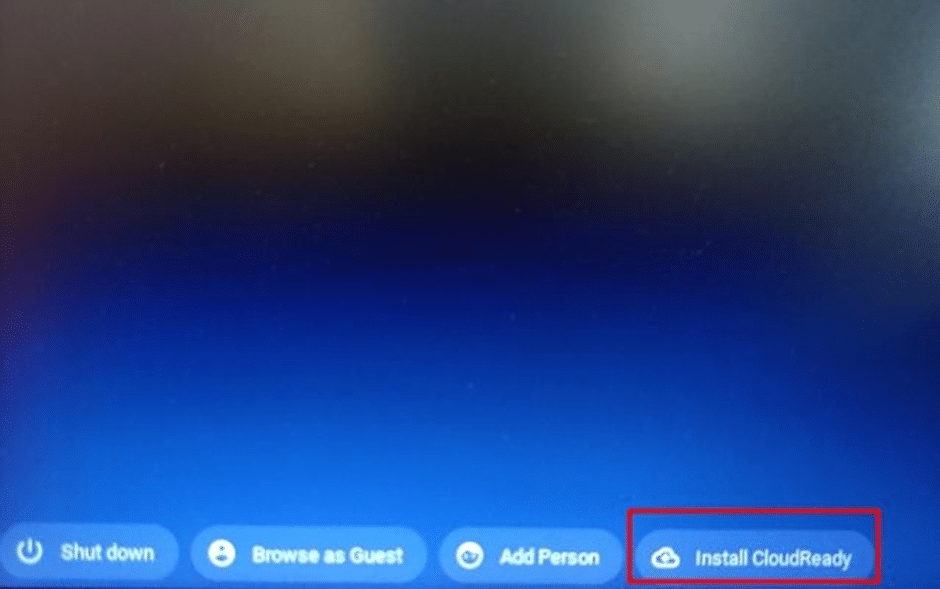 Step 7: Finally, click "Install CloudReady 2.0″ and " Install " again. Note that this step will wipe your entire hard drive, so make a backup before proceeding. Restart your computer and remove
the USB drive when the installation is finished.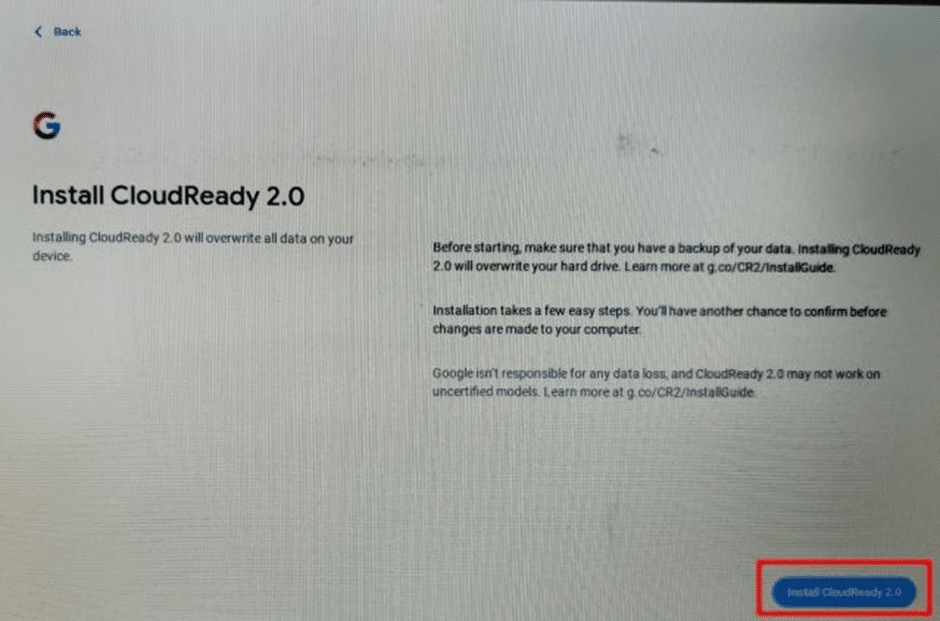 That's all there is to it. Chrome OS Flex will boot up without a hitch on your device. You can now enable the new Chrome OS launcher on Chrome OS Flex and do much more.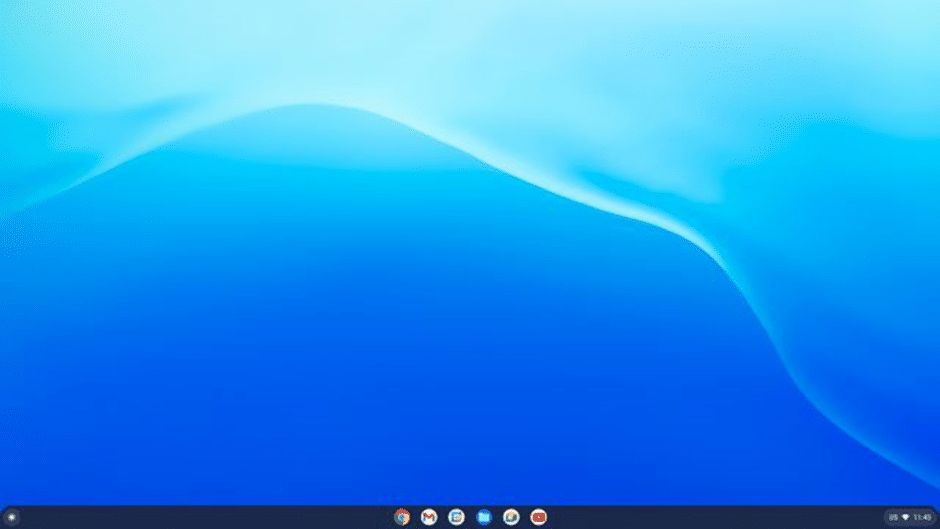 Which OS to Download: ChromOS Flex or ChromeOS?
There are some differences between the two. Flex does not natively support Android applications, but it will, like the normal one, mirror pixel phone displays for Android app access in the future.
For now, you can use the phone hub to its full potential. In addition, unlike CloudReady, it can run Google Assistant.
Another distinction is the partial absence of Linux app support. Linux for regular users is still designated as experimental on Flex, while other older systems lack the necessary hardware to run Linux virtualization. Flex is similar to previous Chromebooks.
Flex supports Intel and AMD CPUs; however, systems that ship ARM chipsets will not provide a Chrome book-like experience; thus, Microsoft's Surface X and the latest M1 Macs are excluded.
If you're an Apple fan with an Intel MacBook that no longer receives MacOS upgrades, give this a shot.
It supports various ports and features that may not be received as expected or, in some circumstances, not at all. There is also a potential that some functionality, such as shortcut keys, will need to be fixed.
The Advantages of Using ChromeOS Flex
It has the same capabilities as ChromeOS. We can play our favourite games on this with Nvidia GeForce Now and Xbox Cloud. Unfortunately, as you know, Stadia is closing down; otherwise, that would have also been included.
Unfortunately, unlike on certified Chromebook machines, we cannot play Steam link games; you may wonder why. It lacks Android app compatibility and official Steam support. However, we can compensate by using large cloud game streaming providers.
If you are a coder or maker, you may utilize this to build electronic creations on devices like the Raspberry Pi 4. The device should appear like a USB drive, and we should be able to immediately write code to it.
Google is working on a list of authorized devices that will be officially supported by Flex and knows exactly which features will and will not work.
In most circumstances, whether you can formally certify hardware or not, you can keep it in mind and expect Flex to run just fine. It is much easier to experiment without making a commitment.
When should you install ChromeOS on your computer?
Consider running ChromeOS Flex on ageing PCs and laptops that are too slow to use. They are perfect for significant organizations and educational institutions with outdated computers incapable of handling their present workload.
These devices can be repurposed by running ChromeOS Flex and using them for essential activities. This reduces e-waste while also helping to save the earth.
Google Chrome Enterprise Upgrade allows organizations to remotely control all ChromeOS Flex-running PCs. You may clean them remotely, manage their updates, and change system settings. This is a premium service, although there is a 30-day free trial.
Google believes that organizations may obtain a return on investment of up to 295% with Chromebooks and save three hours per device per worker over three years.
Suppose your firm can only afford to migrate to Chromebooks at a time due to the significant expenditure. In that case, ChromeOS Flex is a wonderful practical choice because it runs on existing hardware.
If you haven't experienced ChromeOS yet, ChromeOS Flex is a terrific (and inexpensive) method to do so. Google maintains a list of authorized ChromeOS Flex models and their End of Support year.
This is an excellent technique to determine how well the OS will work on your old PC and whether or not you will encounter any issues.
If the list indicates that you will face severe problems with ChromeOS Flex on your computer, consider waiting until the issues are rectified.
Google ensures audio input/output, video output, network, touchpad, sleep, System UI and graphics, and webcam on approved devices. Other features, such as SD card slots and keyboard shortcuts, may have been tested but must be guaranteed to perform correctly.
However, Google does not guarantee installing ChromeOS Flex will miraculously transform your old PC into a Chromebook. ChromeOS Flex's boot speed, power savings, and battery life advantages are determined by your PC's specifications and other factors.
How frequently does Chrome OS Flex receive updates?
ChromeOS Flex is updated at the same rate as ChromeOS. This implies that you'll get an OS update every four weeks, with minor security fixes handed out every few weeks.
Google releases ChromeOS Flex updates in stages, so they may not be accessible for your PC immediately. You can manually download the most recent ChromeOS Flex release if you are eager.
Google provides Smart Update Filtering to ensure a new OS build does not disrupt your ChromeOS Flex installation. If the update server detects hardware components in your PC that may cause problems with the latest ChromeOS Flex release, the update may be modified or delayed.
The filtering, however, is limited to significant faults that may prevent your PC from booting or create graphics or internet connectivity problems.
Is Chrome OS Flex available for free?
You can download and install Chrome OS Flex for free on your old MacBook, Linux, or Windows PC. Chrome OS Flex is built on the open-source Chromium OS platform and is sponsored by Google; hence, it is free.
Is Chrome OS Flex the same thing as Chrome OS?
Chrome OS Flex is a simplified, lightweight version of Chrome OS. You can use the Chrome browser for everything, even installing Linux programs. Unlike conventional Chrome OS, it does not support Play Store or Android apps.
Furthermore, only some users know that Chrome OS Flex and the standard installation do not share the same keyboard layout. As a result, several common Chrome OS keyboard shortcuts may not function properly with Chrome OS Flex.
Is Chrome OS Flex safe to use?
Yes, Google has officially published Chrome OS Flex, which is safe to install on any Chromebook, MacBook, or Windows machine.
Installing Chrome OS Flex is likewise straightforward, and you get a Chrome browser-focused lightweight OS with all the bells and whistles.
Conclusion
That concludes our article on installing Chrome OS Flex on old PCs and Windows laptops.
Install ChromeOS Flex on an old PC or laptop to breathe new life into it.
Even better, you can install ChromeOS Flex on your Chromebook to see how ChromeOS and ChromeOS Flex vary.
After you've updated your old computer with ChromeOS Flex, take a few seconds to learn about our best ChromeOS tips and techniques for becoming a power user.