ASUS Realtek HD Audio Manager is one of the most well-known pieces of software for adjusting and modifying audio settings on your computer. You can use the app to configure multi-streaming playback, which allows you to stream multiple audio streams to different output devices at the same time. Furthermore, Realtek HD Audio Manager is a sophisticated utility that can be installed on your Windows PC.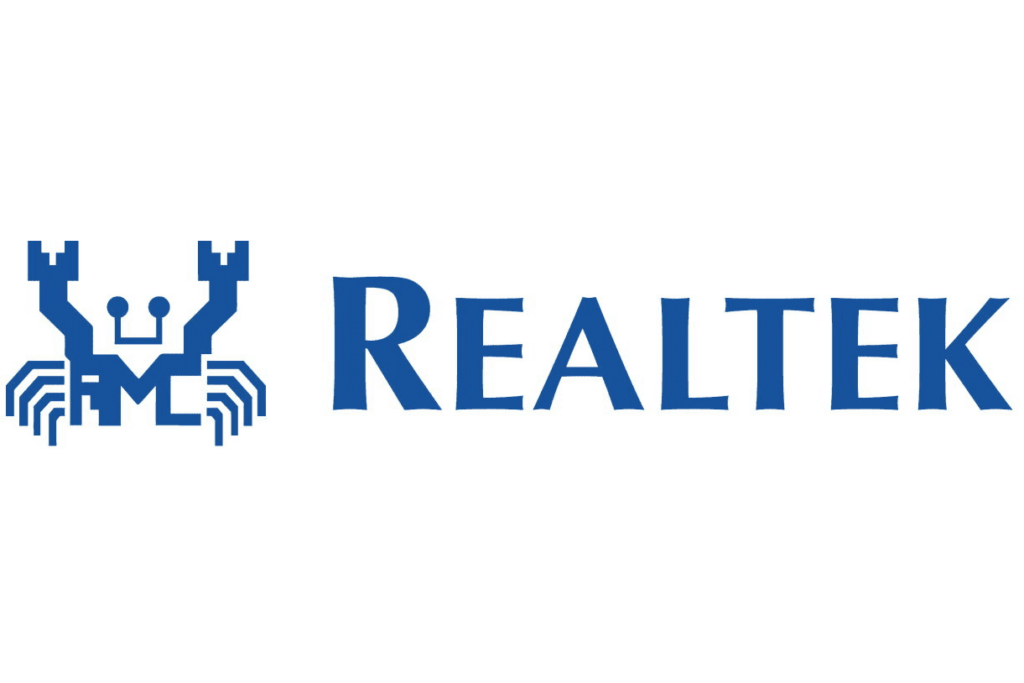 The software includes a mixer, equalizer, echo cancellation, noise suppression, and several predefined sound profiles, all of which are essential for boosting your computer's audio.
Recommended Post:- Virtual Disk Service Error: The Object is Not Found on Windows
We'll show you how to get it and install it on your Windows 11 PC today. Continue reading!
About Windows 11 Audio Manager
Windows 11 has an audio manager that allows users to change audio settings and presets. The audio manager is accessible via the Windows Settings program or from the system tray. The following are some of the capabilities and options available through the Windows 11 audio manager:
Volume control: The audio manager enables users to change the volume of various audio sources and devices, such as speakers, headphones, and microphones.
Sound settings: The audio manager in Windows 11 also gives you access to sound settings including equalization, spatial sound, and other sound effects.
Audio device management: The audio manager lets users manage their audio devices, such as choosing the default playback and recording devices, configuring new devices, and diagnosing device problems.
App volume and device preferences: In Windows 11, users can manage the loudness of individual apps and set particular audio devices to each one.
Overall, the Windows 11 audio manager offers a comprehensive range of tools and controls for managing and optimizing audio on Windows 11 devices.
Is the Realtek audio driver supported by Windows 11?
It is, indeed. Even though Windows 11 is the most recent Microsoft operating system, it is compatible with a wide range of goods.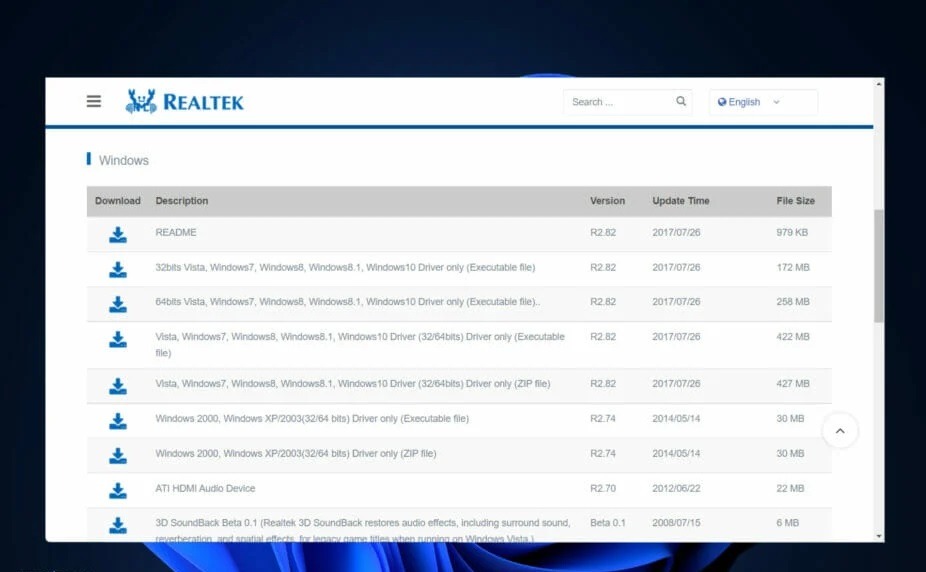 The most recent Realtek audio driver for Windows 11 OS for Intel was released on January 11, 2022. That is version 6.0.9285.1. This Intel Realtek HD audio driver for a 3.5mm audio jack may be used by the 11th generation Intel NUC11PHKi7CAA and NUC11PHKi7C.
You should also be aware that the Realtek High Definition Audio Driver, which supports surround sound, DTS, and Dolby sound systems on your PC, is the most extensively used sound driver for Windows systems.
What is ASUS Realtek HD Audio Manager?
ASUS Realtek HD Audio Manager is a software application that enables advanced audio settings and controls on ASUS devices that run Windows. Realtek Semiconductor Corp. created the software, which is intended to operate with ASUS motherboards and other compatible gear to offer high-quality audio output.
Users can utilize ASUS Realtek HD Audio Manager to configure and adjust numerous audio parameters such as volume, equalization, sound effects, and more. Advanced features include noise suppression, microphone enhancement, and speaker configuration options.
The software is available as a standalone application or as part of the ASUS driver package, and it is accessible via the Windows Control Panel or system tray. ASUS Realtek HD Audio Manager, with its simple interface and controls, is a useful application for anyone who wishes to improve the audio settings on their ASUS device.
What is the purpose of ASUS Realtek HD Audio Manager?
Although downloading the app allows you to further customize your audio experience, it is not necessary to connect to new speakers or use the sounds given by your computer system.
The ASUS Realtek HD Audio Manager, on the other hand, can manage your PC's audio adapters. As new speakers, microphones, headphones, and other devices connect to your computer, the manager will automatically recognize them and provide you with the choice to configure them.
While running Windows 11, the program is usually installed alongside the Realtek HD audio driver. Generally, the operating system will install the driver for you, and the audio manager can be found in the Control Panel.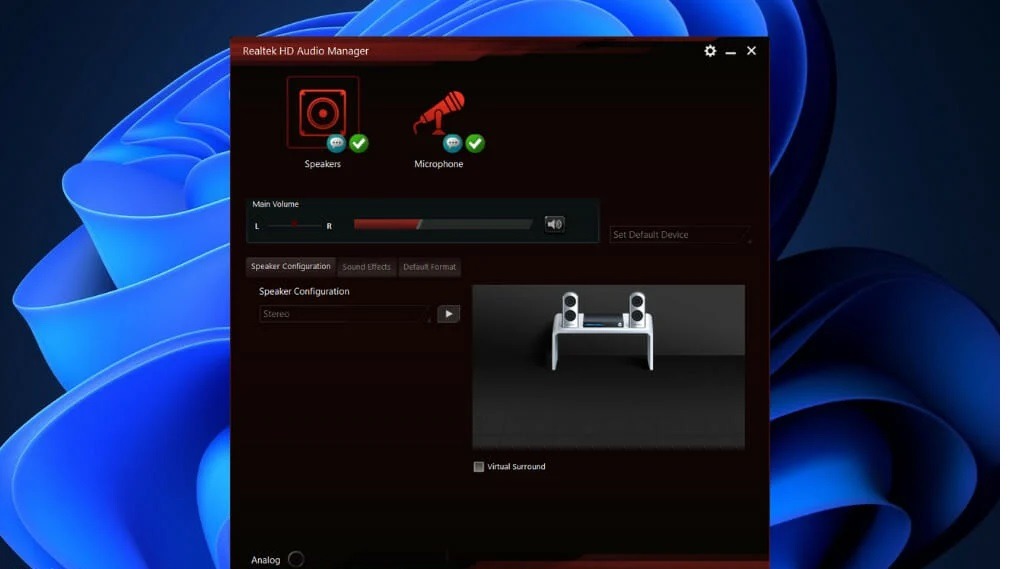 If you cannot find it, you may immediately download and install it on your PC by following the instructions below.
Many consumers have questioned whether installing the manager is required when there are no audio problems. Nevertheless, the answer is no; you do not need the driver to properly operate your PC's audio hardware.
Should you, on the other hand, keep using it? You absolutely should. It detects and configures any new devices attached to your PC, such as speakers, headphones, and microphones, at the time of connection.
How can you get ASUS Realtek HD Audio Manager for Windows 11?
In the following section of the article let us have a look at the methods to get ASUS Realtek HD Audio Manager for your Windows 11 system.
Solution: Get it from the Realtek website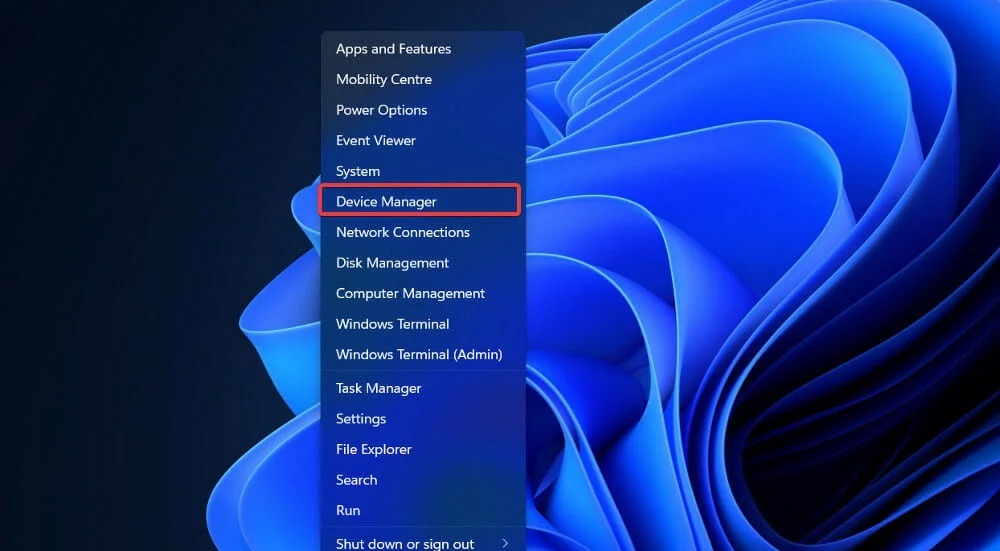 Step 1: To launch Device Manager, right-click on the Start symbol and select Device Manager.
Step 2: Expand the Sound, video, and game controllers area and right-click Realtek High Definition Audio, then select Remove device. Confirm the uninstall by checking the box next to Remove the driver program for this device, then continue.
Step 3: After uninstalling the driver, restart your computer.
Step 4: After deleting the audio driver, go to the ASUS Download Center and download the Realtek HD Audio Manager for Windows 11. Be certain that you select the suitable Windows version.
Step 5: Double-click the setup file and install it as you would any other program on your computer. Finally, to install the Realtek HD Audio Manager, follow the on-screen directions.
Step 6: That's all there is to it! Once you've finished installing it, you can find it by putting Realtek HD Audio Manager into the search bar, which you can access by pressing Windows + S.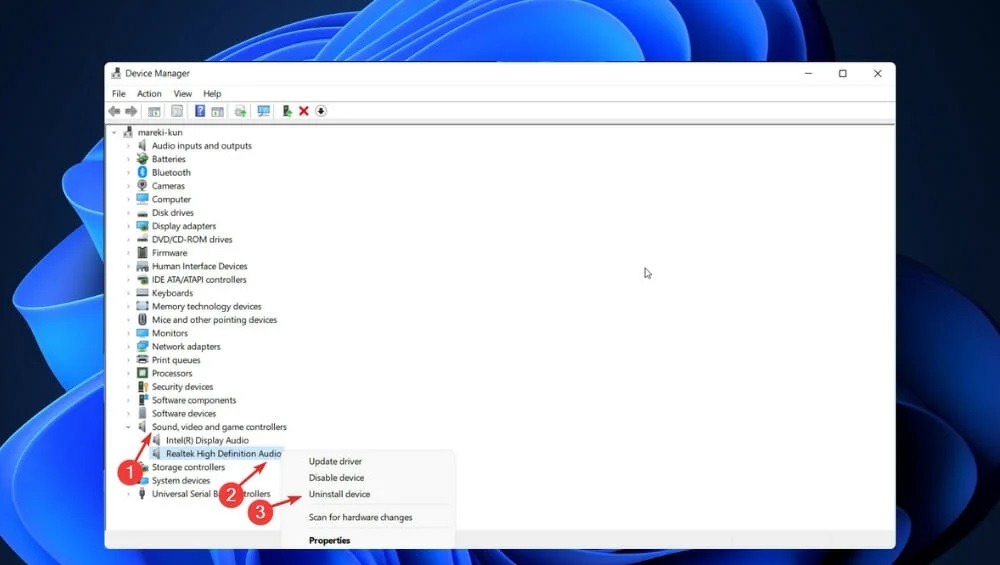 You should now have the ASUS Realtek HD Audio Driver Manager and the optimal Asus driver for Windows 11.
Note: The ASUS Realtek HD Audio Manager is not currently available for download from the company's official website, however, there are several third-party sources. Proceed at your peril if you choose the latter. We will update this post with the official download link once the ASUS HD Audio Manager is ready.
Why Does Audio Output Don't Work?
First and first, you should address the most obvious issue. For example, if no sound is coming from your computer, be sure you haven't hushed the audio.
The master volume should not be muted or set to a low level, so check the bottom-right corner of your computer for the Volume icon and confirm that it is not present.
Right-click on the same icon and pick the Open Volume mixer from the context menu to see the current volume level for all programs that are now playing audio. Raise the volume of these as needed, taking care not to muffle them by accident.
Examine the volume of applications, games, video players, and other comparable programs that are operating. When you play a muted YouTube video, for example, there is no sound, even if you have the master and browser volume settings turned up.
Close any audio-heavy applications that you aren't currently utilizing. You will be unable to hear anything from other devices since some apps can seize control of your audio device.
For example, being active in a Discord call while wearing Bluetooth headphones may prevent you from hearing sounds from other apps. It's also a good idea to restart your computer before continuing with the process.
It's conceivable that your sound issue is only temporary and is the result of an imminent upgrade with locked audio output.
Why is Realtek missing from Device Manager?
Because of missing files or outdated drivers, your computer's Realtek HD Audio Manager may not appear or function properly. If this is the case, you can use the command prompt to do a file check. Yet, this may result in the creation of corrupted files and the resolution of the problem.
An outdated operating system may also be a cause of this issue. In this case, check the Settings app for Windows Updates, which we may use to automatically update your drivers.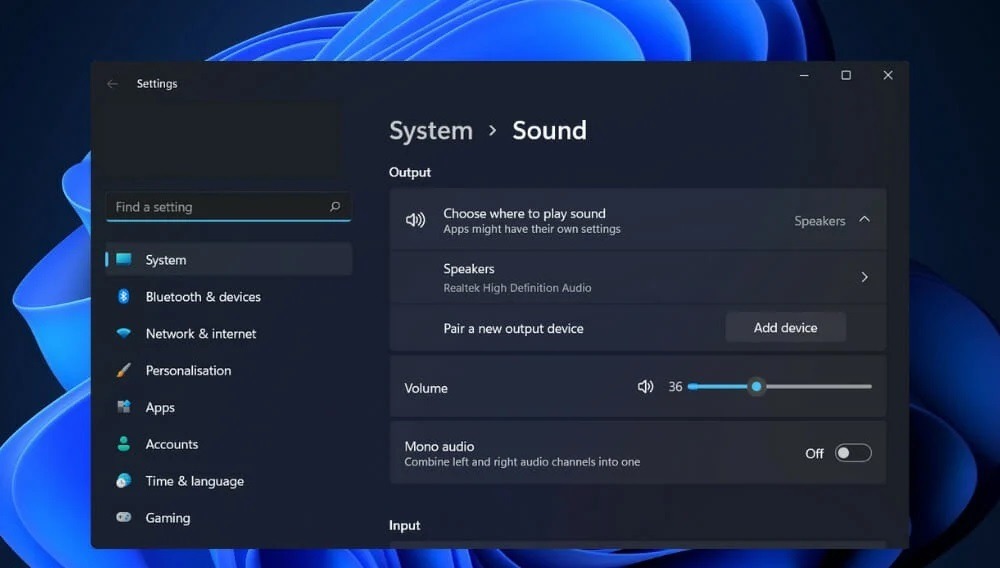 The driver may have other difficulties, in which case you should obtain a new copy and install it on your machine.
Whatever the situation may be, this is a simple problem to solve.
That is all we shall discuss in this essay. We hope you have a good time using your ASUS Realtek audio driver on Windows 11. It would be helpful if you were one of the numerous people who found this PC driver to be highly effective and useful.
Of course, you may experience these troubles on occasion, but Realtek HD Audio Driver issues are often simple to resolve. In most cases, updating the Realtek Audio driver on Windows 11 64-bit solves the problem.
A few people reported no sound with Windows 11, however simple solutions such as ASUS driver updates and reinstallation also worked.
Why do people prefer ASUS Realtek HD Audio Manager on Windows 11?
Users enjoy ASUS Realtek HD Audio Manager on Windows 11 for a variety of reasons, including:
Customization: Customization possibilities are one of the primary reasons why users favor ASUS Realtek HD Audio Manager. The software has a variety of audio settings, such as equalization, sound effects, and volume controls, allowing users to tailor their audio experience to their preferences.
Intuitive interface: The software offers an intuitive design that is simple to use, allowing users to easily access and alter audio settings.
Enhanced Sound Experience: ASUS Realtek HD Audio Manager also includes advanced features such as microphone boost, noise reduction, and speaker tuning choices, which provide consumers with more control over their audio experience.
Compatibility: Users of ASUS motherboards and other compatible gear can benefit from the software's enhanced audio output because it was specifically created for ASUS products.
Overall, ASUS Realtek HD Audio Manager is a robust and adaptable utility for adjusting audio settings on Windows 11 devices, allowing users to improve their audio experience and enjoy higher sound quality. As a result, it is quite popular among gamers seeking a high-quality audio experience.
Conclusion
Finally, ASUS Realtek HD Audio Manager is a versatile and effective utility for managing audio settings on Windows 11 devices. It gives users a variety of customization choices, such as the ability to change sound effects, equalization, and volume levels to improve their audio experience.
ASUS Realtek HD Audio Manager is a vital application for anyone who wishes to improve their audio settings on their Windows 11 device, thanks to its intuitive layout and user-friendly controls.
ASUS Realtek HD Audio Management can help you get the finest possible audio quality for your needs, whether you're a gamer, music enthusiast, or professional. Overall, it is a fantastic addition to the Windows 11 ecosystem and a must-have tool for anyone serious about their audio.