In today's time, the most threatening thing is not working on the internet. No matter you have a premium plan of internet connection but it will show some errors and your internet will crash. Well, this is not blackmailing, but the problems that are often faced by the users. Today, crashing the internet is a big problem and we want it to be solved as soon as possible. To know more about Permanently Turn Off Google Assistant, visit our ISO River page for the detailed insights.
If you have a WiFi connection and suddenly it stops working and shows the error of No Internet Access then it can be a big issue to get it back. Well, we often take help from service providers to get it started but what if I tell it can be solved by you in the minimum time? Yes, you don't have to call the service provider and wait for them to come and resolve as you can actually solve the problem and get your WiFi connection back with the same quality as earlier. We have come up with some really interesting fixes of WiFi Connection:
Easy Methods to Fix WiFi Connection
Start with the Router
It may often be that the internet may not be giving access because of the router problem. This might come with a driver problem. To confirm, try connecting the device through LAN. Still, there are no positive signs of WiFi then it is clear that the router has some problem and which is why the internet has no access.
To start with, the user first needs to Reset the Router. This helps remove cached memory clean and remove auxiliary problems including faulty software and more.
After completing the restart, check whether internet access is back or not. If not then proceed with the next method.
Check Modem Lights
The user often ignores little things that are actually needed to look after. Sometimes the issues are in front of the user and it is ignored with the lack of visibility. The issues of WiFi connected but no internet access takes place when there the internet cable is broken. It can be because of the storm, service disruption, or anything.
To fix the problem of WiFi connected but no internet access error, check the lights of modem and if the DSL light is on and blinking then your WiFi needs maintenance.
Run Network Troubleshooter
Press Windows + I to open Settings.
Click on Network & Internet. A complete list of Status will appear on your screen
Select Network Troubleshooter and follow the instruction to resolve the problem of WiFi Connected but no internet access error.
Clear DNS Cache
DNS Cache might be the reason for your WiFi connection but no internet access error. This issue can be seen by visiting the website of DNS cache as it quickly confirms the errors.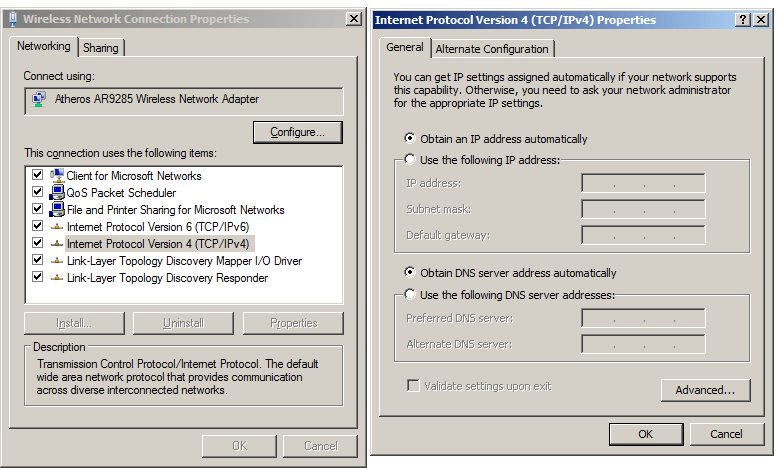 In case the DNS cache is not available in Windows 10, then the user needs to clear its cache memory. Follow the steps to clear the cache memory.
Press Windows + R and type "cmd". This will help you open the command prompt.
Now type "ipconfig/flushdns" and press Enter.
You're done! This will help you clear the DNS cache. Now restart your PC and your WiFi connection but no internet access error is solved.
Outdated Wireless Mode
The internet speed completely depends on your router. Whether your router is outdated then WiFi will not be able to provide faster speed. If you WiFi connected but no internet access error doesn't solve, then it might be because of the outdated wireless mode and slow speed which is 802.11b. Changing your router may help you solve the problem and get faster speed.
Update Network Driver
Outdated wireless card drivers could be another reason for facing WiFi connect but no internet access error. To start updating the network driver; follow the Click on Windows button and type Device Manager.
In case you notice yellow marks on network adapters it seems you have outdated drivers in your system. When you try to update a network driver might ask you to choose whether you are enabled with "search automatically for updated driver software" or manually.
We hope that you are satisfied with the information we have delivered to you. If you are coming across any error of WiFi Connected But No Internet Access Error, then you should know the method of fixing WiFi Connected But No Internet Access Error. Learn about Fix WiFi Connected But No Internet Access Error and keep your operating system up-to-date. If you have any queries regarding the Fix WiFi Connected But No Internet Access Error you can drop down your concern in the comment section and we will get back with the solution in minimum time.