Online gaming platforms have been becoming popular these days with lots of people getting into serious gaming, the gaming industry is vast and still growing. Expert gamers and gaming enthusiasts have been overwhelmed as the industry is much greatly supported and well established, there are a lot of games to choose from and compete against each other in the tournaments and fests. Steam is one of the big players in the gaming industry with many games and support features Steam is by far the most used gaming platform and is currently used by 120 million users. This article will deeply discuss what steam is and how to fix the pending transaction steam error.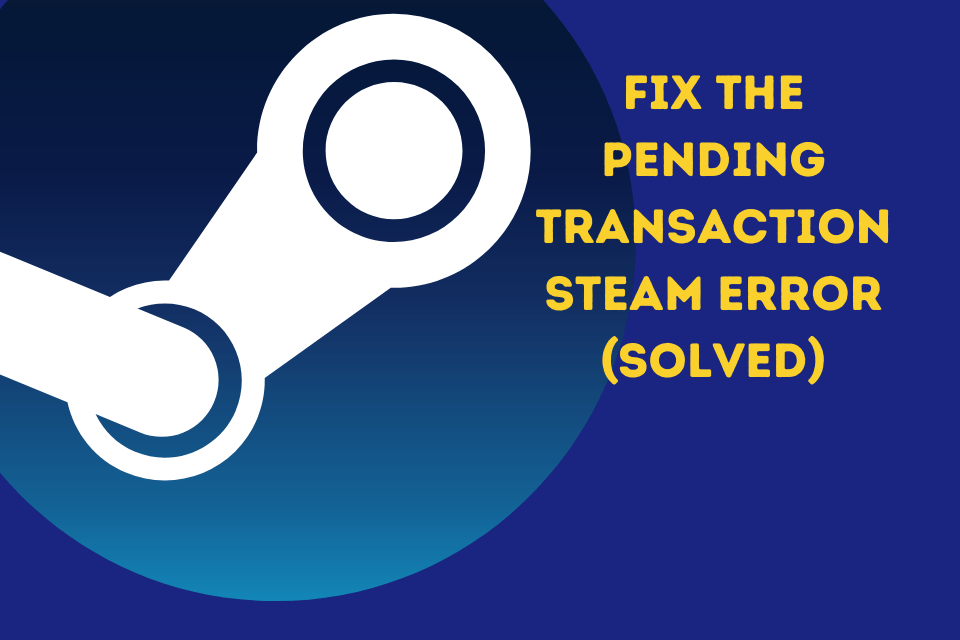 As mentioned above Steam is a well established online gaming platform with millions of users. The platform offers various gaming features that the users can access and make use of to play games efficiently. It's one of the best platforms out there developed and released by Valve in 2003. Probably most of you know about exactly what steam is, but this intro would be helpful if you have just ignored some of the facts about steam and would be of a certain eye-opener for new gamers. On the platform, you can buy games, sell games, watch tutorials and much more, the features will be listed below, so you can get a better idea about the platform.
Recommended Post:- Fixed: 503 Service Unavailable Error in Windows 10
Features of Steam
Purchase games and feature from the Steam store.
Play games with friends and other gamers online.
Compete in fests and play along and win games.
Virtual reality support.
Stream games on Steam.
Available for Mobile phones.
Chat with friends on Steam with Steam chat.
Develop and release games on the Steam platform for people to play.
Download mods and other customized features for over 1000 games.
Highly secure platform for gamers.
Steam is a place for fun and rivalry (in games obviously), the platform keeps a tab of your stats and other details and you can access thousands of games from the vast libraries. There are no limits for steam and that's y it is one of the most popular and most used gaming platforms on the planet.
Even though Steam is a great platform and so on, it still has some potential flaw as all online platforms do, the platform is used by millions, and maintaining the server is a very challenging task and the Steam team is doing a great job of maintaining such a powerful server is a most secure and effective way, and some minor errors are possible Ok to have, the main concern of this article is one such minor issue with the Steam platform is sometimes the transactions done over the platform does not get through and the error shows up. Many users have encountered this type of error and have been looking for a solution to fix this. The error is mainly caused due to server overload, internet failure, or failure of the transaction pathway.
Transactions are very delicate operations as it involves the use of customers account details, and maintaining the necessary security is essential. Steam uses one of the most secure methods of the online transaction to secure its customers, with all the security and other server-side operations the server might slow down and fail at times causing interruption with gameplay or transaction. There is not much the user can do when the server is down as he doesn't have control of the server but there are some client-side operations that might solve overload and make the error disappear. Here are some methods that you might use to fix the pending transaction issue Steam error.
How you can fix Pending Transaction Steam Error
Below are some methods that might solve the transaction issue on the Steam platform. Follow the steps mentioned below as they are pretty easy and time-saving ones.
Method 1
Cancel other pending Transactions on Steam:
If you have many pending transactions on the platform, you might face the pending transaction error, you just need to delete or remove other pending transactions from the list to fix the issue.
Go to your account details > view purchase history > cancel all other transactions that you dont currently want to allow the recent one to get through.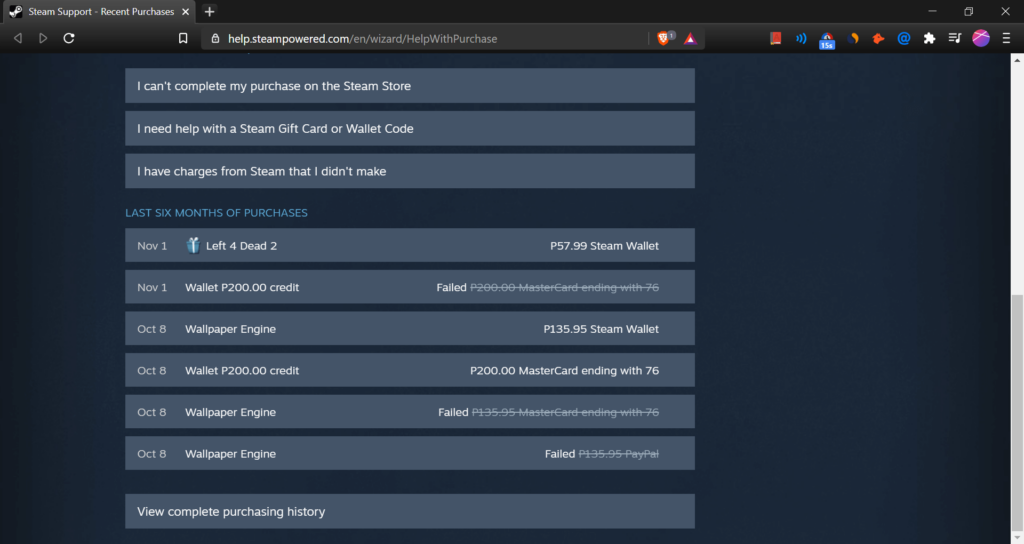 Method 2
Try purchasing using the Steam Website:
Get out of the Steam application and login into your Steam account on the website using a web browser.
Now try to purchase the game or other support items from the store.
This might help you get through the transaction error and allow you to make a purchase without a hassle.
Method 3
Disable VPN and IP Proxy on your computer:
VPN and IP proxy can interfere with the purchase and can cause pending transaction error on the Steam platform.
Disable them and try to purchase from the store, you might be successful with the purchase.
Method 4
Website Down for maintenance or other Server-side error:
In the case of server down, you cannot do much, you just need to check whether the server is down by using the downdetector website. You will find out whether the server is down from the website and wait until the server is up to make purchases.
All the above-mentioned methods are just simple and easy to follow methods, you can use these tricks and complete the transactions on the Steam website without hassle, if the server is really down, you need to wait until it is u to make the transaction.
Hope the information provided above was useful and informative, you can make use of these simple tricks to get your transaction done on the Steam platform and enjoy playing games.