A disk image or ISO file can be used for a variety of purposes, one of the most ubiquitous of which is to install an operating system on a computer. However, the ISO file – which is the key element – and the USB flash drive – which is the medium of delivery – must adhere to specific respective standards. If that doesn't happen, any number of errors could crop up.
In this article, we'll outline some of these common errors when creating a bootable USB installer using a Windows ISO file. We'll also offer up a great tool for burning ISO files to USB drives and show you how it's done – and why the tool goes far beyond its primary use as an ISO burner application.
Common Issues when Burning ISO Files
Invalid ISO File – The most common reason ISO files fail to burn properly is because of the files themselves. That's why experts recommend that you always do a hash check for your ISOs before attempting to burn media or create a bootable installer no matter whether it's on USB or a physical disk. After all, it doesn't matter if you have the most expensive or sophisticated ISO burner in the world if the source file is corrupt or damaged in any way, right? So do a checksum to see if the file components are as they should be. Here's a resource that shows you how.
Wrong Type of Writing Software – Unless you're using an authoring tool that's specifically designed to create bootable media like Windows Media Creation Tool, you're wasting your time. Creating a bootable USB requires a disk authoring utility. You can use Microsoft's own Media Creation Tool for this, or you can choose a more dependable option that has a much higher burn success rate.
Inadequate Space on your USB – If you're creating an installer for the 64-bit version of Windows 10, as an example, you'll need at least 6 GB of space on your USB. The May 2019 update is about 4.6 GB; no surprises there because Windows 10 is known for coming with a lot of bloatware that people don't always need.
Corrupted Flash Drive – If your USB stick is corrupted, that could also lead to the burned ISO file not working as it should. As a best practice, make sure you fully re-format your drive before creating a Windows installer, and that the drive is partitioned according to the OS version you plan to put on it. Most of the top ISO burning tools UUByte ISO Editor or even the best open-source tools will format your drive based on the specific ISO being burned.
Which brings us to why you need such a robust tool like the UUByte ISO Editor.
Why and How to Use UUByte ISO Editor
The first reason this is the ideal tool for the job is that it has a very high burning accuracy rate – one of the best in its category, as a matter of fact. Additionally, it can be used for other purposes like extracting the contents of an ISO file, adding or removing files, and creating ISO files from a set of files and folders. It also offers the flexibility of either using a physical disk like a DVD/CD or a USB flash drive. But probably the most important aspect of this tool is that first-time users will love the way they can just effortlessly slip into using it like a pro!
The chief reason for that is that the company behind the software has spared no pains to make sure that all the heavy lifting is done at the back end, away from the user's perception. The user only sees intuitive and simple controls to get the job done.
Let's see how it works:
Step 1: Get the latest version of UUByte ISO Editor from the official site and install it on your PC or Mac (both flavors are available). Also, make sure you've done a checksum on your ISO file.
Step 2: Insert your USB drive and fire up the software.
Step 3: In the initial window, choose the Burn option. We'll get to the other functions again in a bit.
Step 4: You should now be able to see your USB stick identified as the target drive. Browse to and select the ISO file in the appropriate section.
Step 5: Hit Burn, wait until the process is complete (you'll see a success message on the screen) and eject your Windows USB installer. It is now ready to use.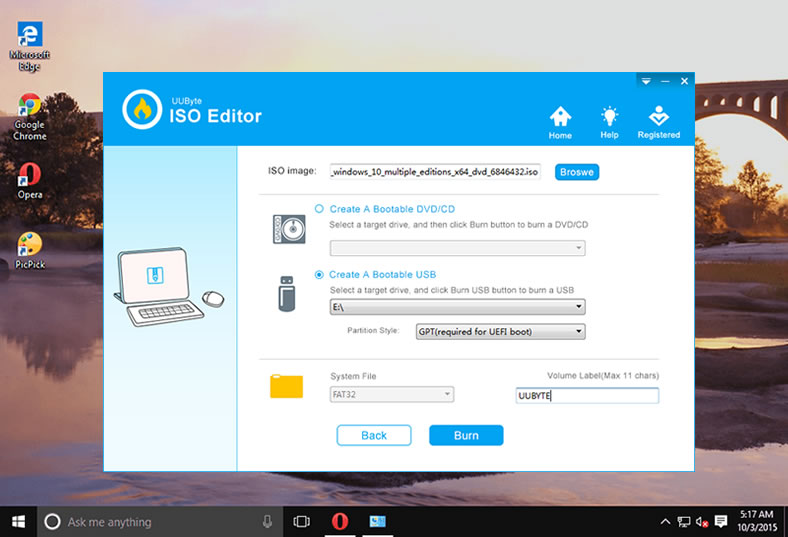 Other Features
The reason this software is probably the best choice for creating a bootable USB installer for Windows is that you don't need any technical expertise to use it. In addition, you've got all the other tools for creating, editing, and extracting from ISO files. Those certainly come in handy when trying to do anything else with an ISO file other than burning it. For example, if you have a bunch of media files as an ISO and you want to make changes before sharing it with a friend, this is the perfect tool for you. Similarly, if you need to extract data without affecting the original file, UUByte ISO Editor once again saves the day.
But don't take our word for it. Take it for a trial run and see how you like it. If you're happy, you can register a license for that copy. It's as simple as that.