In case of heavy load in PC (desktop or laptop) users sometimes face a problem. The PC will ask them for a GPT disc. Users have to convert their MBR disk to GPT disc so that their computer will run normally. Many users aren't aware of this conversion. In this article, we will discuss the process of how they can convert their MBR to GPT disc. For this process, users have to store a Gparted tool. This tool will help them in this converting process. This is also a very secure process. No data is lost after the conversation.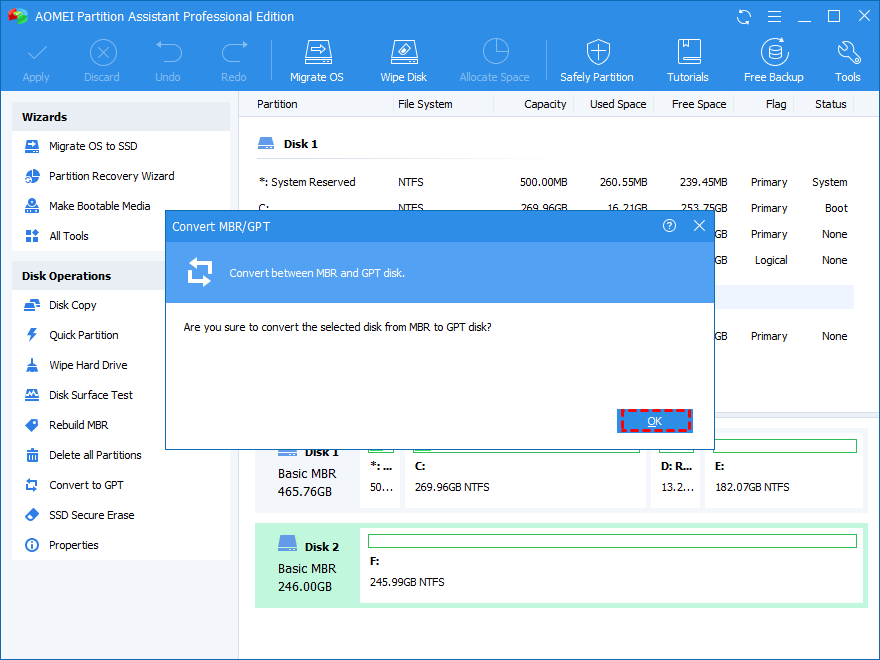 We briefly described the process of converting. The AOMEI is the alternative of the Gparted tool for Windows users. According to the user, ut is a very useful application. If the user follows this article very carefully then they can apply the process and will be able to convert the MBR disc to GPT. This is a useful application in many cases. So users need this conversion process. But sometimes the user will face some problems related to data loss. But we assure if users follow these processes and back up once before starting the conversion then they can not face the problem.
Recommended Post:- Create A Bootable USB From Android Phone Without PC – Complete Guide in 2020
Situations when a user needs to convert MBR to GPT
The minimum capacity of the MBR hard drive is 2 TB. So it will always contain a maximum of 2 TB even if 3TB is available. So if any user wants to utilize the total hard drive then they have to convert to GPT. This GPT disc is able to contain more than 2 TB.
If users want the primary segregation (the four-part) then also they have to convert the MBR disc to GPT. This GPT file will allow up to 128 separate partitions.
There may be some other reason that will appear when the user will convert the MBR to GPT file.
Converting process of MBR to GPT
There are some steps by which the user can download the Gparted tool and convert MBR to GPT.
If Windows users want to use this Gparted tool they have to burn this in a CD. Because it is already mentioned that the basics of Gparted language in Linux. Users also have to restart their PC.
Users have to back up the MBR disk.
After rebooting the user will get a screen. On that screen, Gparted will set. Users can also set default settings.
After this user will see another screen. That screen will ask them to select an option from "keymap". Users have to select the option " don't touch keymap".
After that, the window will ask the user to choose their perverted language. Users must have to select their preferred mode at this particular time.
After they have to click the Enter option for further.
At this time the Gparted window is opened. Now, this window is able to perform the disc converting process.
Users have to select their device from this option.
At this time they also have to create their partition table.
After that from the pop-out, they have to choose the "GPT" option.
At last, users have to press the "Apply" option for starting the conversion process.
Before converting users must have to take a back up for avoiding data loss. If the user has had the backup file then after converting and restarting the PC if any data is lost, it will automatically be geared up and updated from the disk.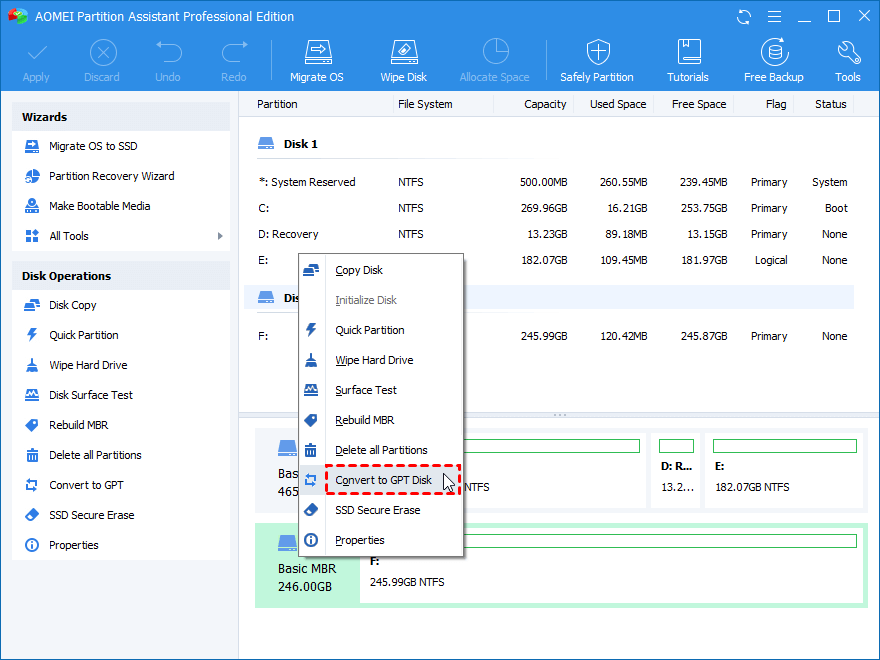 For Windows users, this process is a little bit complicated. Gparted toll is a little bit complicated for Windows. For that, there is an alternative option for Windows users. By three steps they can convert their disc MBR to GPT.
AOMEI partition is such a kind of software which is comfortable in Windows 7, 8, and 10. It is also useful for Windows XP. This software will convert the MBR to GPT.
Also, WinPE mode is not required for this version.
Before downloading users have to make sure that they have EFI in their system. Back up is also needed here for avoiding some accidental data loss.
Users first have to download the AOMEI partition file. They also have to install this file.
They have to select the "MBR disc" option because they will convert from this to GPT.
Then users have to press the right click on it to convert the file to GPT. After clicking this the converting process will start.
After this step users have to click on the "ok" option and they can also return to the main menu option.
Users will see the window that the GPT partition table is already generated.
Then the user must have to click on the "apply" option. Otherwise, it will not save.
Thus we can say that the process is so much easier to install and convert the disc MBR to GPT.
Download GParted
We hope that you are satisfied with the information we have delivered to you. If you are a Windows user then you should be way familiar with the system and it won't take much time to understand the behavior of GParted. This application has a good amount of feasibility while operating. Also, after installing GParted will get extremely handy and easy to function.
Learn additional features and functionalities in your operating system up-to-date. If you have any queries regarding the GParted you can drop down your concern in the comment section and we will get back with the solution in minimum time.