Some of you may have noticed that in some institutions or businesses, USB ports are disabled to prevent unauthorized access, data theft, and the introduction of contagious viruses into the system. As a result, to protect all PCs, the administrator typically disables all USB ports. However, when a user needs to open the ports quickly, he or she tries to activate the USB port in Windows 10 blocked by the admin.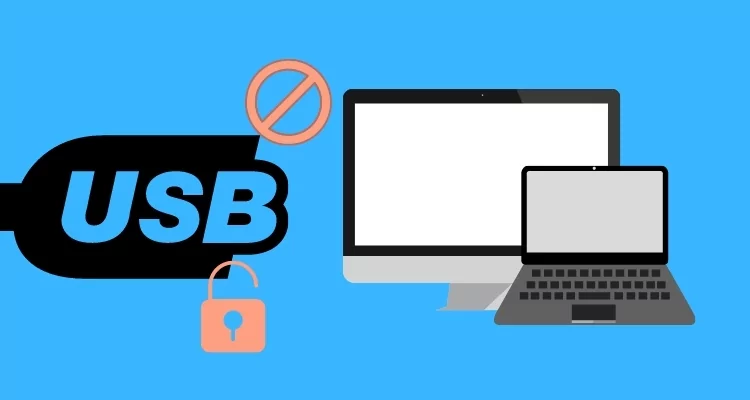 So, in this essay, we will go through a better technique for enabling USB ports in Windows 10 and other Windows OS versions. Furthermore, in the next sections of this post, we will discuss the tool-oriented solution that will allow users to quickly block or unblock USB ports. Continue reading this post to learn about the simple method of enabling USB ports.
Some people don't know how to block/unblock USB drives, which causes them to suffer when utilizing a system. Because they are unable to connect using any external device.
Recommended Post:- Fixed: Notepad++ Not Responding on Windows
What exactly is a USB Port?
A USB port is a connection interface for USB devices that uses the Universal Serial Bus. External discs and peripherals can be connected to all desktop and laptop PCs via ports.
There are several kinds of USB connecting ports. The most common port is USB Type A, but some PCs also include USB Type B, Type C, and USB 3.0 slots for connecting devices.
Why do USB Ports Fail?
A USB device may not be recognized for a variety of reasons. You may have a faulty device, or there may be an issue with the port itself. … The computer is having trouble detecting USB devices. The USB Selective Suspend function is enabled.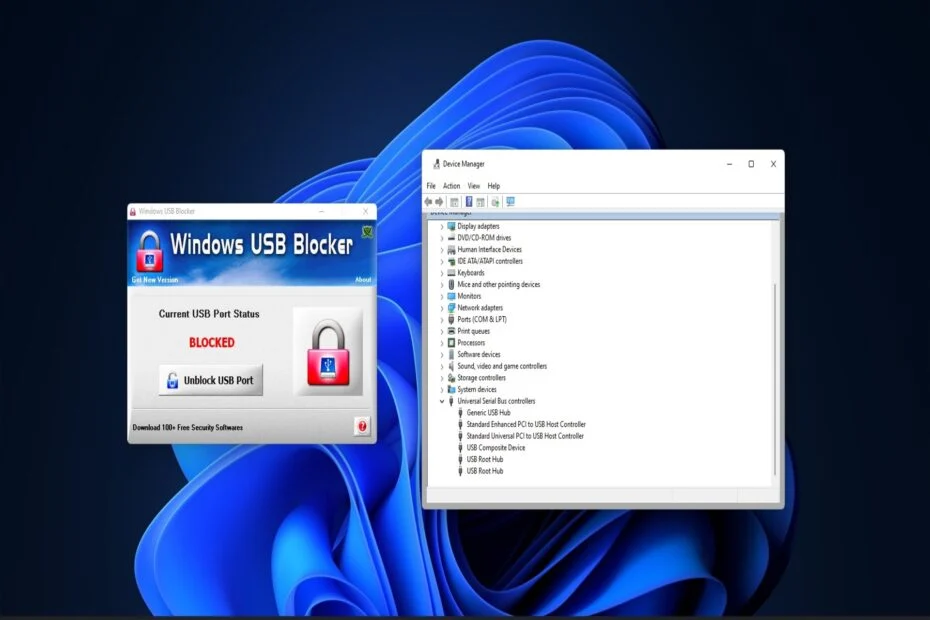 What is the Purpose of the USB Selective Suspend Setting?
"The USB selective suspension capability allows the hub driver to suspend an individual port without disrupting the operation of the other ports on the hub," according to Microsoft. Selective USB device suspension is especially beneficial in portable computers since it helps conserve battery power.
In Windows 11, how to Enable Restricted USB ports?
Let us now look at the actions you must take to unblock the USB ports on your Windows 11 PC. These are their names:
Solution 1: Use Device Manager to unblock USB ports
Step 1: Open the Power User menu by pressing Windows + X, then pick Device Manager.
Step 2: Enlarge the category of Universal Serial Bus controllers. enable the device
Step 3: Right-click the USB controllers listed there and select Enable device, if available.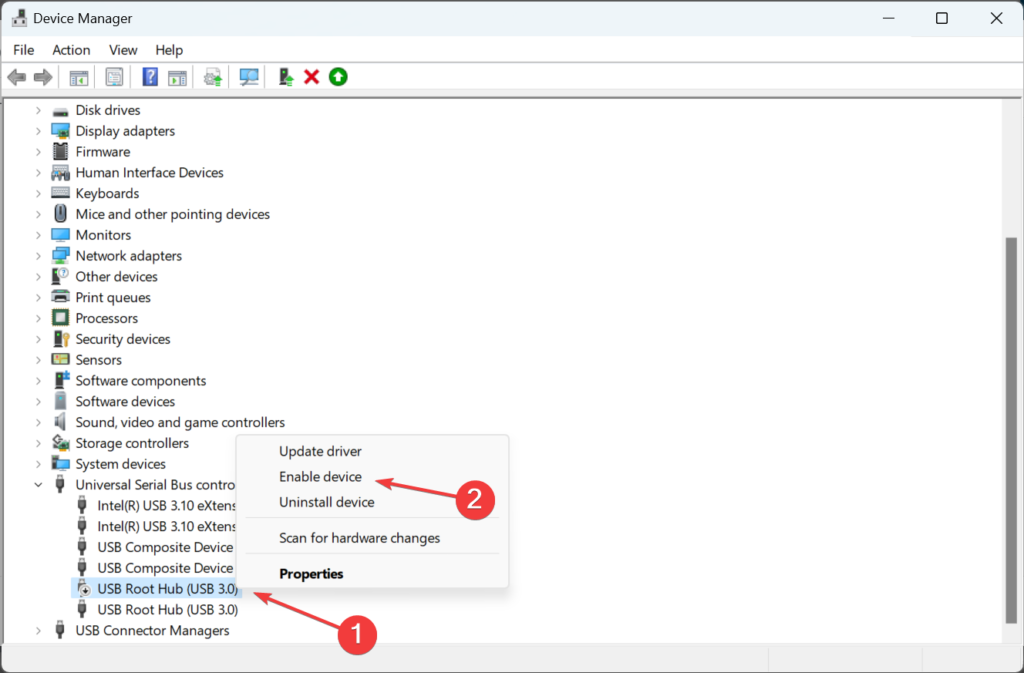 Solution 2: By modifying the Registry, you can unblock USB ports
Step 1: Open Search by pressing Windows + S, then type Regedit into the text area and click on the correct search result.
Step 2: Type the following registry path into the address bar and press Enter: Computer\HKEY_LOCAL_MACHINE\SYSTEM\CurrentControlSet\Services\USBSTOR
Step 3: On the right, double-click the Start DWORD.
Step 4: To save the changes, clear the Value data field, enter 3, and click OK.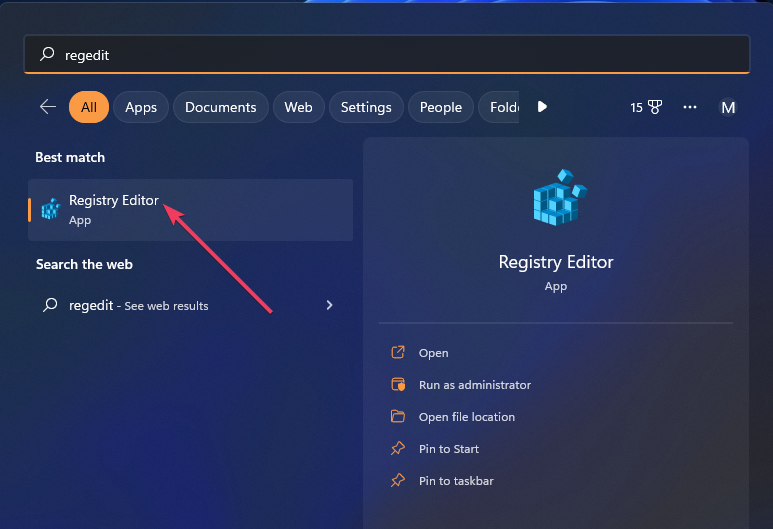 After you've finished, restart the computer to ensure that the modifications take effect. If you're wondering how to activate a USB port in Windows 10 that has been disabled by an administrator, this procedure should also work on the previous version.
Solution 3: Use Group Policy Editor to unblock USB ports
Step 1: Open Run by pressing Windows + R, then put gpedit.msc into the text field and click OK. The button labeled OK how to allow a USB port that has been restricted by the administrator
Step 2: On the right, expand the Computer Configuration category, select Administrative Templates, and then double-click on System.
Step 3: Next, click on Removable Storage Access. Take away storage access
Step 4: Select All Removable Storage and double-click it. Deny all access policy configurations.
Step 5: Policy for All Removable Storage Classes how to allow a USB port that has been restricted by the administrator
Step 6: If that option is enabled, select the Not Configured or Disabled radio choice.
Step 7: Disable the Removable Disks: Deny read access and Removable Disks: Deny writes access policy settings in the same way.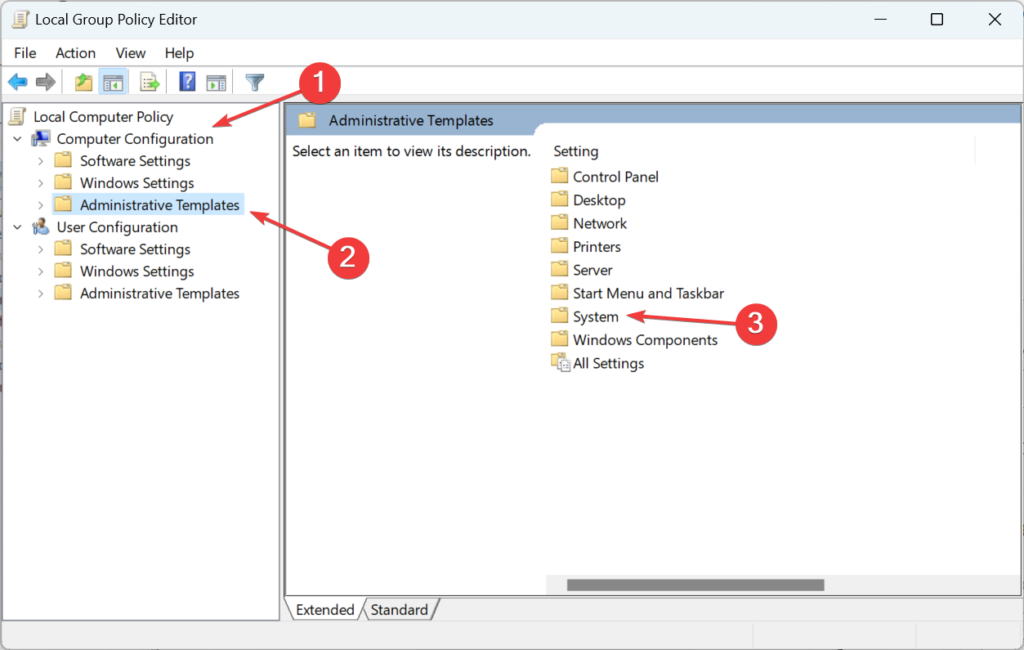 Note: Please keep in mind that the Group Policy Editor tool is not accessible in Windows 11/10 Home editions. Gpedit.msc can, however, be readily enabled in Windows using a sequence of commands.
Solution 4: Use the Windows USB Blocker programme to unblock USB ports
Step 1: Navigate to the Softpedia USB Blocker page and select the Download Now option.
Step 2: Navigate to the directory that contains the WindowsUSBBlocker ZIP file.
Step 3: Next, double-click WindowsUSBBlocker and choose to Extract all.
Step 4: Within the ZIP extraction tool, click Show extracted files to pick that option.
Step 5: Select Extract to open the extracted WindowsUSBBlocker folder.
Step 6: Next, double-click Setup WindowsUSBBlocker.exe to launch the program's installation wizard.
Step 7: Select the Install option.
Step 8: Launch the Windows USB Blocker application.
Step 9: If the port status is blocked, select Unblock USB Port.
What should You do if none of the ways for unblocking a USB port work?
If those procedures fail to unblock a USB port, an administrator may not have closed the port. Third-party antivirus software can also block USB ports.
How Can You Transmit Data if the USB is Turned Off?
Many people have questioned this topic when they have been unable to restrict USB ports on their PC. The simplest approach to accomplish this would be to employ a reputable cloud storage provider. You may effortlessly upload data from one PC to cloud storage and download them from another.
Also, if the USB device you're attempting to connect is a phone or has network connectivity, use Wi-Fi file transfer software to smoothly share data between devices.
Do USB Ports Turn Off/Sleep?
When you put your PC into sleep mode while charging your phone through USB, the power to the USB ports is turned off, and your phone stops charging.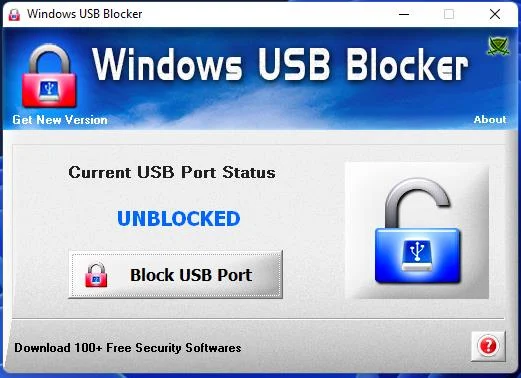 Conclusion
When the admin has disabled the USB ports, some users find it impossible to enable them. When the administrator is not present, users can try to manually enable the ports or utilize a tool-oriented method to enable USB ports in Windows 10 restricted by the admin. So, we've covered both manual and professional methods for removing USB port constraints.
That is everything about unblocking USB ports that have been blocked by administrators and other important information. You'll be able to use external storage devices on your PC again after the USB ports are unblocked.
We do not advocate that individuals attempt to unblock USB ports on PCs in enterprises' networks without authority. Instead, ask a network administrator for permission to use your USB device on a network workstation.