Kali Linux, an operating system that was released by Kali on March 13, 2013, became a huge success in penetration testing and auditing anyone's security. Kali has many tools that work to perform hundreds of different tasks, which are mainly used to secure all confidential information from different organizations in the world. In many countries, Kali is illegal as it is mainly used for hacking but we should all know that kali is only illegal if we use it for hacking.
Therefore, it could be installed for any purpose other than piracy because we all know that hacking is a criminal offense. Installing Kali Linux on your PC is a good option, but it will not work as it does on a real PC because many of the functions that are supposed to work will not work on a normal PC and without those features, it is not a good idea to install Kali on your PC and use it to its full potential.
So that's the reason why people usually, Dual Boot Kali in the current system to work on it in a full potential way and even windows will work perfectly along with that. To know more about 7 Reasons Why You Shouldn't Upgrade To Windows 10, drop down to our ISO River page for the detailed insights.
Overview of Kali Linux
Kali Linux is actually a source file that is fully maintained and funded by Offensive Security, which is a provider of global security information and even provides training. Offensive security uses Kali for their tests and even go through many tests to find any bugs in any of the world's security systems. So, that's why Kali Linux is illegal to hack, but it could be used to teach, learn, or even study as it provides many good tools for that purpose.
Kali Linux is a platform that offers more than 600 penetration testing tools to solve many problems of a developer who is just a beginner and wants to learn how to develop applications. Along with this it also offers a wide variety of applications. So as to assist the developer in their progress. The most important feature in this is having a custom kernel that is patched for injection, as we know that developers need wireless access to their assessments to help them in that custom kernel helps them to faster connectivity any network.
But even if you have a problem with any tool, you can easily go to the website and chat with your executive, who will always guide you to take proper action for your PC.
The most important thing to be careful about when installing Kali Linux on your PC is that you have to remove all your stored files and documents as they can be destroyed during installation. So, don't risk losing all your important files, but backup those files in a safe place and then start the installation.
How To Dual Boot Kali Linux With Windows 10
First and foremost to install Kali Linux on your PC, you need to download the Kali Linux ISO file and simply extract all the files from it to your hard drive. It is not considered whether to download x32 bit or x64 bit, you can choose it according to your preferences and also with your PC.
Then free up more space on your PC by simply deleting some of the unused files on your PC and increasing the file space for Kali Linux. But be sure to disable Secure Boot and Quick Boot from your PC.
After that, simply start the installation by simply opening the corresponding application from the files that Kali Linux extracted. ISO file Then follows the procedure that shows the setup and does all the tasks accordingly, but remember that it will ask for Username and Password for your Kali Linux. Remember that username and password and don't forget it too.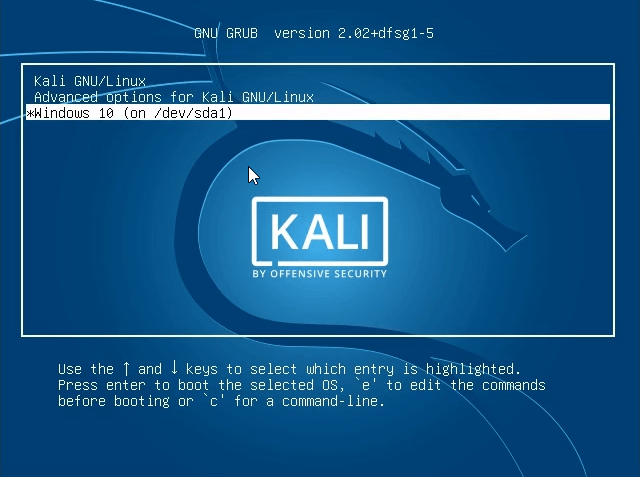 After that, when the setup indicates that the installation is complete, simply restart your PC. However, upon restarting the PC, it will ask you if you should start your PC with Kali Linux or Windows 10. Choose Kali Linux there and put the Username and Password that you added during installation. Then click OK.
Conclusion
As you enter the world of Kali Linux, you would see that there are many things that a PC can do for you besides just working on it. Kali is a perfect platform for all beginners who want to become professionals in penetration and testing work of various security platforms. But the only thing that is prohibited is to use this platform for piracy purposes. And, that's where you could also enter the world's darkest cyberspace. But you could also use this in various other fields.
Therefore, we hope that all the information provided in this article is useful enough to clarify all your doubts about how to start dual Kali Linux on your PC while also having Windows 10.